CPS help was short-lived for Chicago schools that absorbed students from schools closed in 2013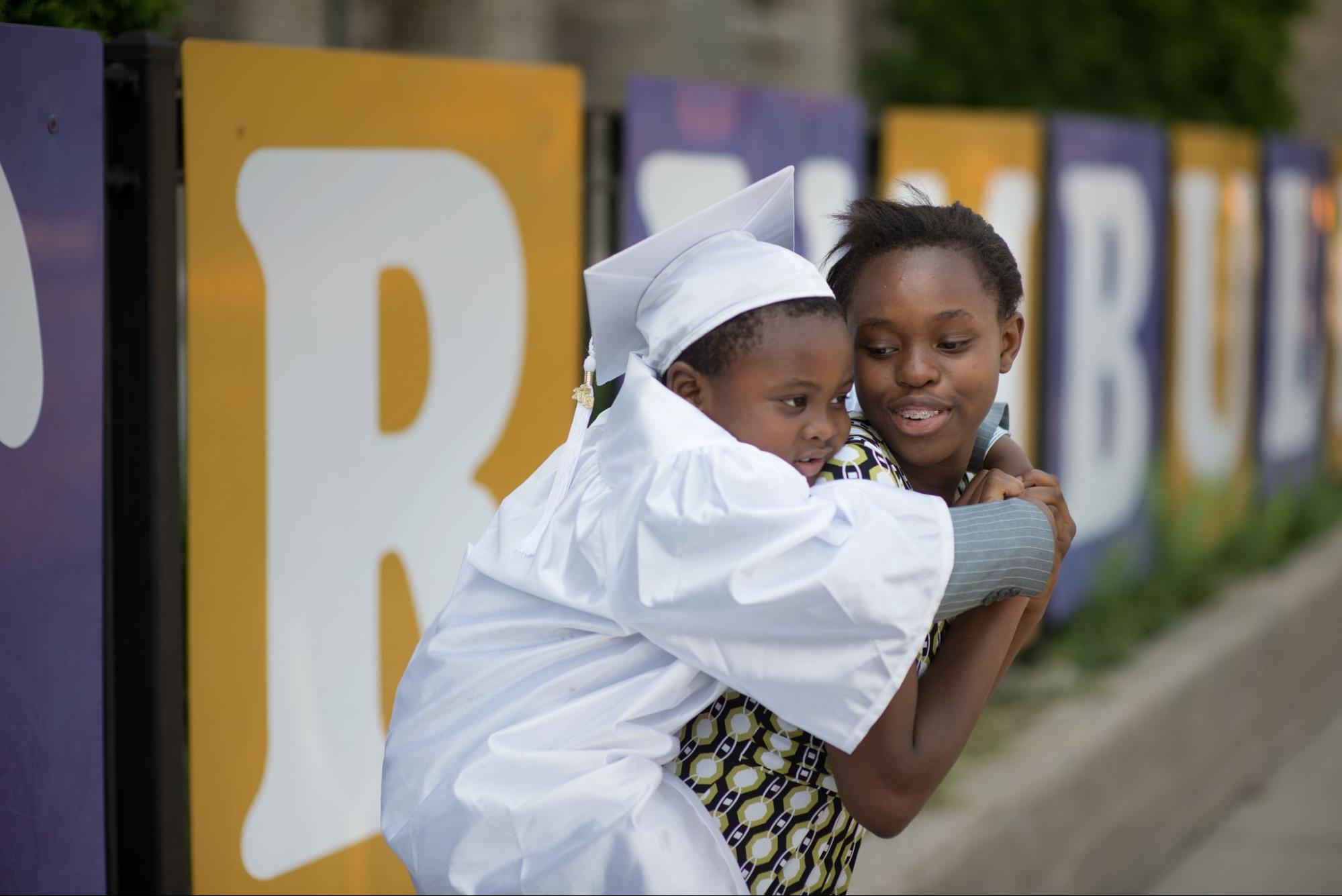 Emmanuel Olojo, then 6 years old, celebrates his kindergarten graduation with his sister, Sarah, 13, at Trumbull Elementary School in Andersonville in June, 2013. Trumbull closed its doors permanently after graduation. Students from the 50 closed schools were encouraged to enroll at one of 49 welcoming schools. Peter Holderness/Sun-Times
On one of the first warm days this spring, kids stream out of Charles Evans Hughes Elementary and run to the snow cone stand at the corner to cool down.
A special education classroom assistant holds a clipboard, helping to coordinate parent pickup. A Chicago Park District staffer brings children over to the park for that afternoon's activity: track and field. Other kids walk home under the gaze of yellow-vested Safe Passage workers.
A mom who works at the North Lawndale school watches over it all, calling Hughes a "good small school."
Families and teachers appreciate the intimate feel to the school, but just like many Chicago schools that were closed 10 years ago, Hughes is now also struggling with enrollment and budget woes.
When Chicago closed 50 underenrolled and low-performing public schools in 2013, then-Mayor Rahm Emanuel and Chicago Public Schools CEO Barbara Byrd-Bennett designated Hughes as one of 49 elementary schools that would take in students from the closed schools. They promised that these so-called "welcoming schools" would get new programs and resources to elevate their offerings and help improve the academic futures of thousands of kids.
"Just think if our children had access to 21st century libraries," Byrd-Bennett said in 2013. "Just think if they had labs where they could do science experiments. And just think if they had an art room or a kiln or a dance studio. This is what our children want. This is what our children need. This is what other children have."
These schools were given iPads, air conditioners and specialty academic programs like International Baccalaureate, STEM and fine arts. CPS said three got science labs. Four got new libraries — but only nine of the 49 schools still have staffed libraries in a district with very few. None got dance studios.
Altogether, CPS invested $155 million to provide the extras as well as make needed repairs.
But it turned out to be only a short-term fix, a Chicago Sun-Times and WBEZ investigation has found, as school officials failed to protect the resources over time.
Enrollment has dropped dramatically for all of CPS in the last decade but enrollment has fallen even faster at the welcoming schools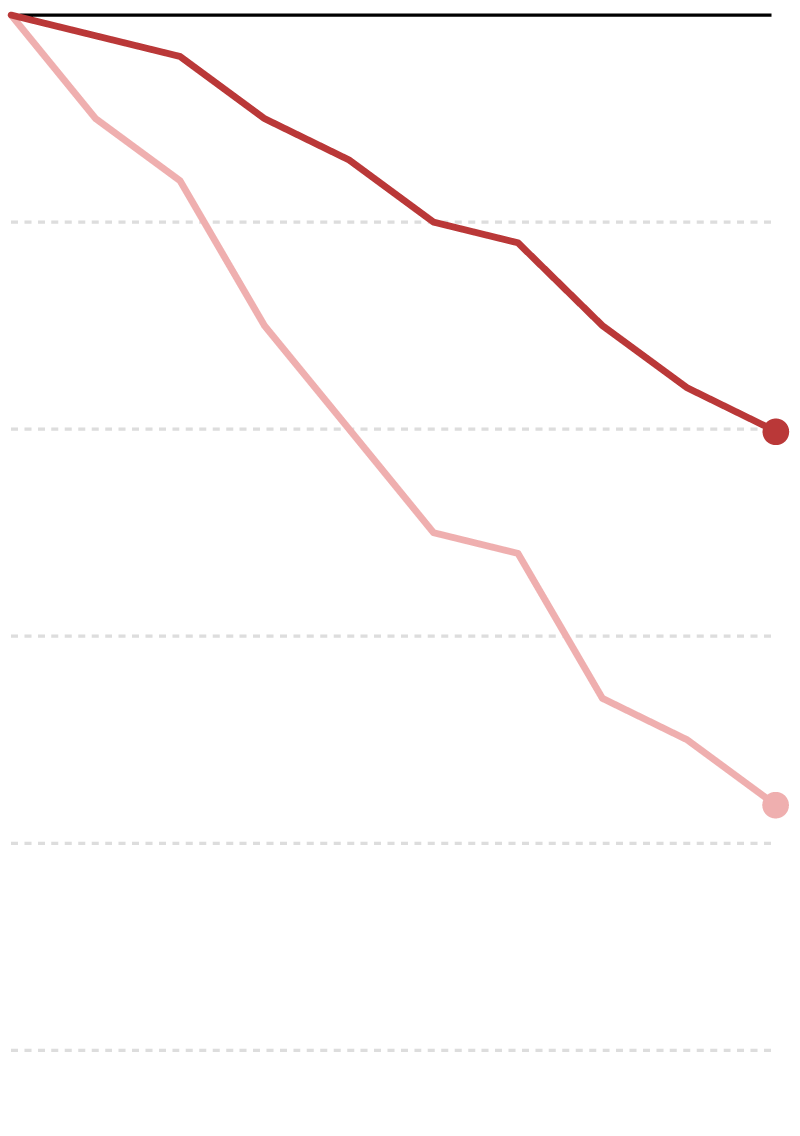 Welcoming schools

-38%
All Chicago public schools

-20%
0
-10%
-20%
-30%
-40%
-50%
2013
2023
Source: Chicago Public Schools
Hughes got $1.3 million to repair its midcentury building, and the school grew from 286 students a decade ago to 329 when nearby Henson Elementary was closed in 2013. Now, it's down to 186 kids, and its budget is precarious amid that drop and the impending loss of federal pandemic relief funding.
Today, welcoming schools like Hughes find themselves just like any other school in Chicago — at the mercy of enrollment swings and budget constraints. A Sun-Times and WBEZ analysis of CPS enrollment records shows the welcoming schools overall are now worse off than they were 10 years ago — before they took in kids from the closed schools.
Over the past decade, they've lost students and funding.
Many families and educators at the schools — and today's school system leaders — say they aren't even aware these were welcoming schools 10 years ago.
After an influx of students from closed schools, Chicago welcoming schools struggled to retain enrollment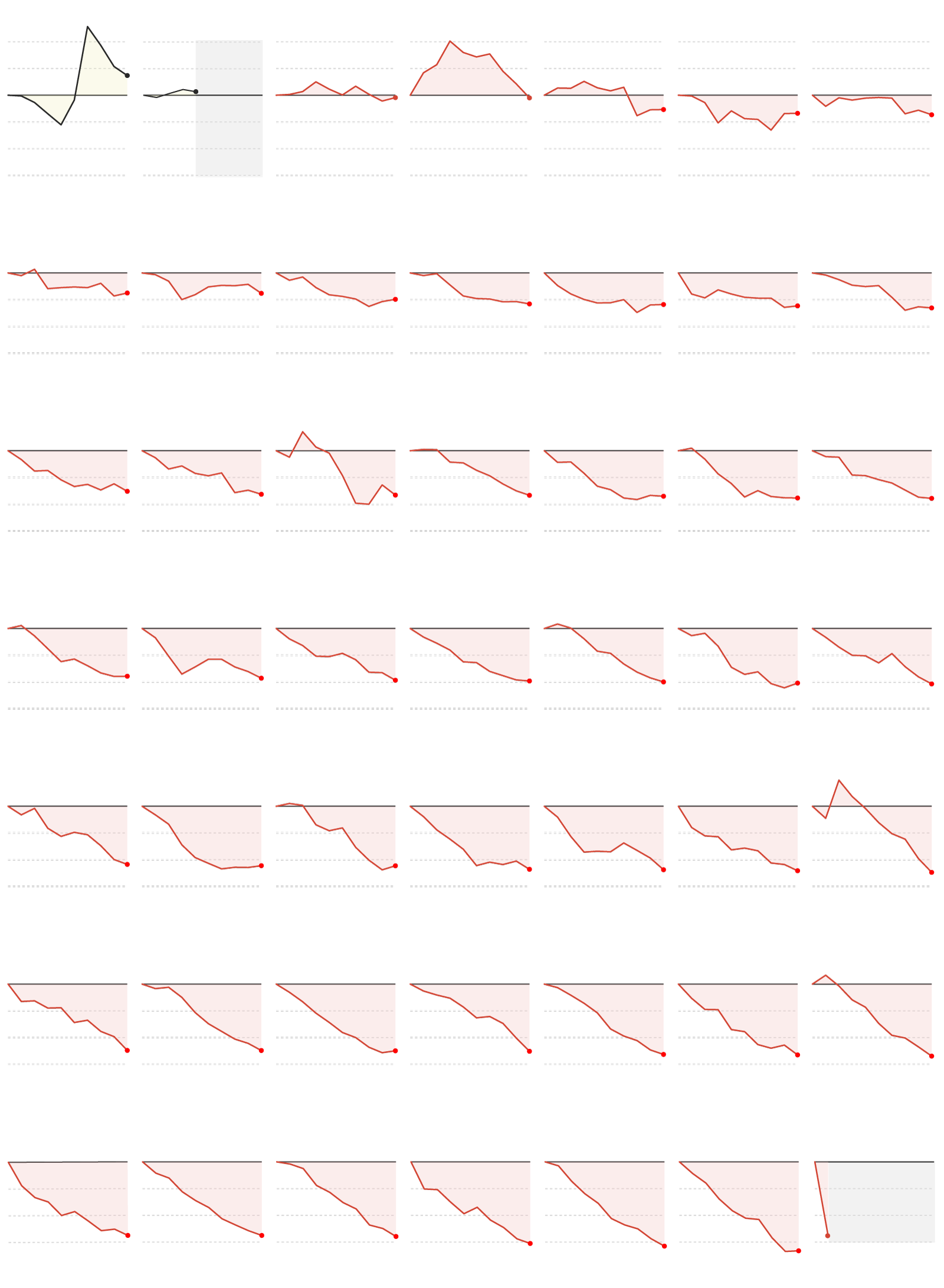 In 2019 Cardenas also brought in students from Castellanos
CLOSED
CLOSED
Castellanos Elementary
−100%
Wadsworth Elementary
−11%
Brennemann Elementary
−14%
McPherson Elementary
−20%
Langston Hughes Elementary
−24%
Beethoven Elementary
−33%
Wentworth Elementary
−34%
McCutcheon Elementary
−39%
Ellington Elementary
−41%
Charles Evans Hughes Elementary
−43%
Courtenay Elementary
−67%
Montefiore Elementary
−100%

In 2019 Cardenas also brought in students from Castellanos
CLOSED
CLOSED
Castellanos Elementary
−100%
Wadsworth Elementary
−11%
Brennemann Elementary
−14%
McPherson Elementary
−20%
Langston Hughes Elementary
−24%
Beethoven Elementary
−33%
Wentworth Elementary
−34%
McCutcheon Elementary
−39%
Ellington Elementary
−41%
Charles Evans Hughes Elementary
−43%
Courtenay Elementary
−67%
Montefiore Elementary
−100%

In 2019 Cardenas also brought in students from Castellanos
CLOSED
CLOSED
Castellanos Elementary
−100%
Wadsworth Elementary
−11%
Brennemann Elementary
−14%
McPherson Elementary
−20%
Langston Hughes Elementary
−24%
Beethoven Elementary
−33%
Wentworth Elementary
−34%
McCutcheon Elementary
−39%
Ellington Elementary
−41%
Charles Evans Hughes Elementary
−43%
Courtenay Elementary
−67%
Montefiore Elementary
−100%
Note: Each school graph marks the 2013-14 school year as the starting point of 0 enrollment. That's when enrollment grew at each school as they absorbed students from the 50 closed schools.
Source: Chicago Public Schools
---
Putting welcoming schools at risk
While the school closings in the spring of 2013 were a monumental move, another policy implemented weeks later has perhaps proven just as consequential.
That summer, as CPS was heading into a new school year minus 50 schools, officials debuted a new funding formula called student-based budgeting. From then on, schools would get a set amount of money for each student enrolled rather than guarantees for a certain number of teacher positions. Principals could use this per-pupil funding to pay their math, English and science teachers and to decide which art, music and other specialty teachers they could afford. Additional money came from the central office, including for administrators and special education.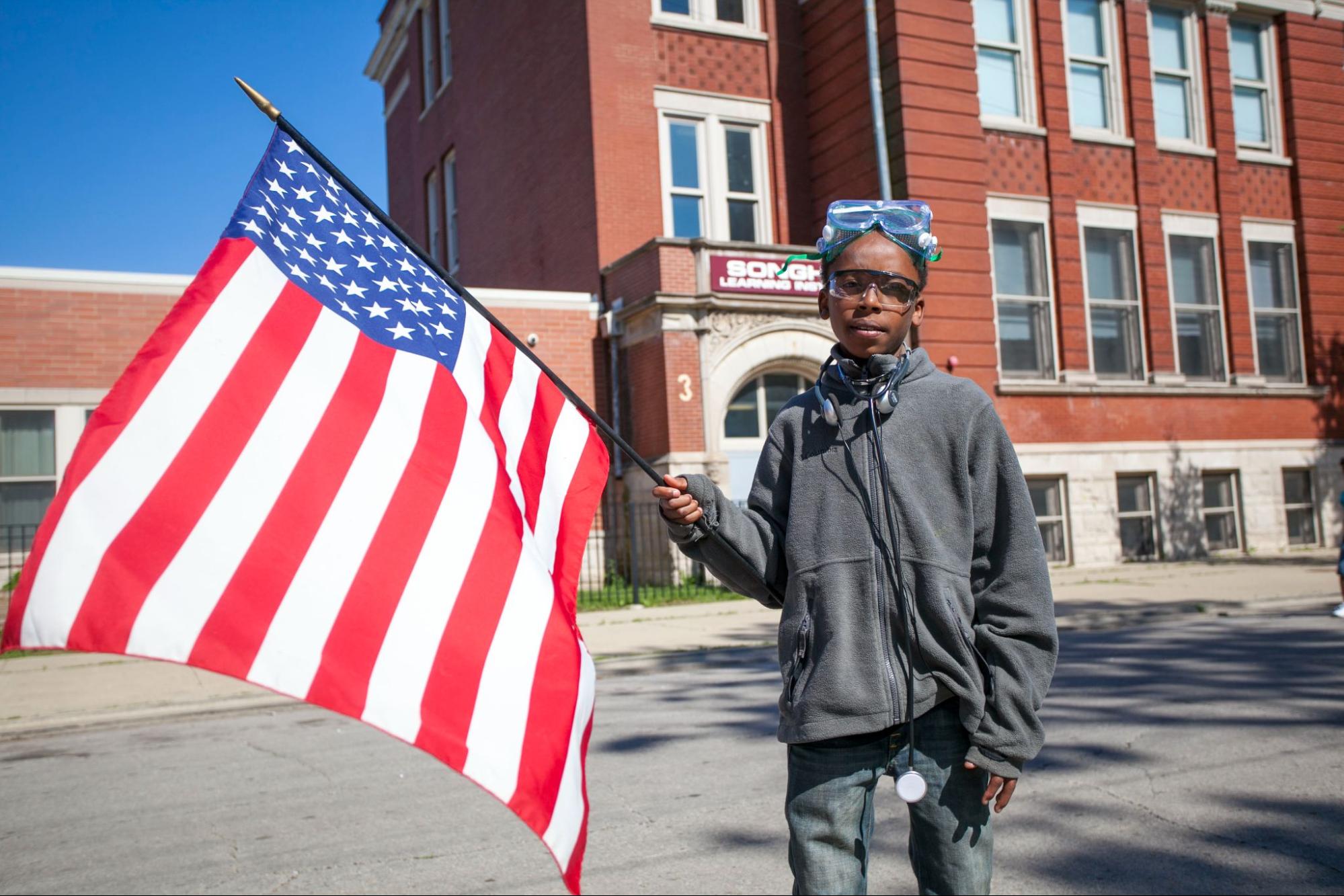 Jaylen Robertson, who was 12 years old in 2013, waves an American flag that he received on his last day at Songhai Elementary School on the Far South Side. After the school was closed students were encouraged to enroll at Curtis Elementary nearby. Chandler West/Sun-Times
The thinking was that this could avoid future scenarios in which schools proved too costly for their low enrollment by letting the money follow the kids. This new market-driven approach was growing popular in big cities around the country — the latest solution presented by the education reform movement. It included opening more privately managed charter schools for competition.
In Chicago, charter schools and some traditional public schools were established even as CPS closed schools for underenrollment.
This new budgeting approach put the welcoming schools at risk. They generally were located near the 50 closed schools to give the displaced kids relatively easy access — but these mostly Black neighborhoods faced the same population losses due to a lack of jobs, safety, a declining birth rate and other neighborhood disinvestment.
With funding now exposed to enrollment changes, there were no guarantees that the investment in the welcoming schools would continue. This left the schools subject to the same factors that had caused enrollment to dwindle at the closed schools in the first place. Over time, these schools no longer could afford librarians, social workers, art teachers and more.
In 2012-2013, the 49 schools enrolled a total of 17,301 students. The next school year, when the buildings took in kids from the closed schools, their enrollment shot up to 26,328. Since then, though, they've lost an average of about 5% each year and now have 16,281 kids.
Chicago Public Schools enrollment overall has dropped dramatically in the past decade — at a rate far exceeding the pace in the 10 years prior to the 2013 closings. The welcoming schools' enrollment has fallen even faster, the Sun-Times and WBEZ found. Today, only three of these school buildings are considered efficient in their use of space according to CPS's formula — two are on the North Side, and together they enroll about 300 more kids than they did before the closings.
A decade later, CPS considers nearly all welcoming school buildings to be underutilized
Status
Percentage space used in 2023
70%+ is considered efficient
SOUTH SHORE ES
Underutilized
Source: Chicago Public Schools
The 18 welcoming schools that received fine arts, IB or STEM designations still have them. But the $155 million in investments Emanuel promised welcoming schools didn't stave off enrollment declines for most of them — or the budget cuts that followed.
The welcoming schools received about $107.5 million in student-based budgeting in 2014. Last year, they got about $86 million as a result of their lower enrollment. In recent years, CPS has provided extra money to some low-enrollment schools to try to stem the losses. And it poured federal COVID-19 money and staff positions into all schools during the pandemic, funding that ends after 2024.
Still, the welcoming schools struggle. Considering that teacher and other staff salaries come from student-based budgeting, and each year they have gotten raises of an average of about 3%, these schools are now getting about 42% less for basic teacher hires than they were in 2014, a Sun-Times and WBEZ analysis shows. There are about 200 fewer full-time teachers working at welcoming schools this school year than the year after the closings, records show, although CPS has boosted hiring of support staff during the pandemic.
That means only a few years after the closings, some welcoming schools, which had been touted as better for the displaced kids, had become underenrolled and underfunded, just like the closed schools they replaced.
Emanuel didn't respond to requests for comment. Neither did Byrd-Bennett.
Some experts say the school system should have predicted — and prepared to protect schools from — continued enrollment losses.
"In those places where schools have been closed, there's a lack of access to affordable housing, lack of access to long term living wage employment," says David Stovall, a professor in the departments of Black Studies and Criminology, Law & Justice at the University of Illinois Chicago. "Those are the spaces that have the highest levels of recorded violence. So we don't have those things and people decide to move elsewhere — [that's] the result."
Even so, those who remain at Chicago's welcoming schools repeat what families from closed schools said 10 years ago — they like having a neighborhood school where their kids can walk to; they like their teachers and sense of community; and they want their schools improved, not closed as the district faces similar challenges as it did a decade ago.
With changing mandates in the years since the closings, CPS CEO Pedro Martinez says he hasn't focused on welcoming schools since he took the job in September 2021. But he has looked to move away from student-based budgeting in some areas.
"We've started first by ... putting foundational resources across the schools, things that have not been put in place," Martinez says. "And this is the first year that that's really occurred in a systemic way.
"Whether it was children that we're still serving today that were affected by all these closures ... or just students that have come to the system since then, ... how do we make sure that we have strong academic experiences for children across the city?"
Did Chicago keep its promises?
---
In 2013, Chicago Public Schools shuttered 50 underenrolled and low-performing schools in the largest mass closing in U.S. history. This impacted about 13,646 children from the closed elementary schools. Up to another 17,000 students were affected as their schools welcomed students from closed schools. To mark the 10-year anniversary, we are examining three promises made by public officials in 2013: The students would be better off; their new schools would be transformed; the shuttered schools would be reborn as community assets.
---
Schools weren't ready to welcome new students
When Henson Elementary was closed, Lemetria Johnson was scared to send her kids to Hughes, their designated welcoming school. She didn't like that they would have to walk farther to school. And she worried there would be clashes among rival gangs.
Johnson gave it a try, though, enticed by the higher number of students meeting academic standards at Hughes and the extra resources CPS put into the welcoming schools.
But at Hughes her kids' grades dropped, and they got in trouble. The family was so disillusioned with the new school that they moved to nearby Mason Elementary despite lower test scores there than at Hughes. Johnson says she liked the teachers there, and her youngest daughter is still at Mason even though they moved miles away, to the South Side.
"My baby girl has friends at Mason," Johnson says, "and she didn't want to have to go to a new school."
Many other families found the same challenges at the welcoming schools and left.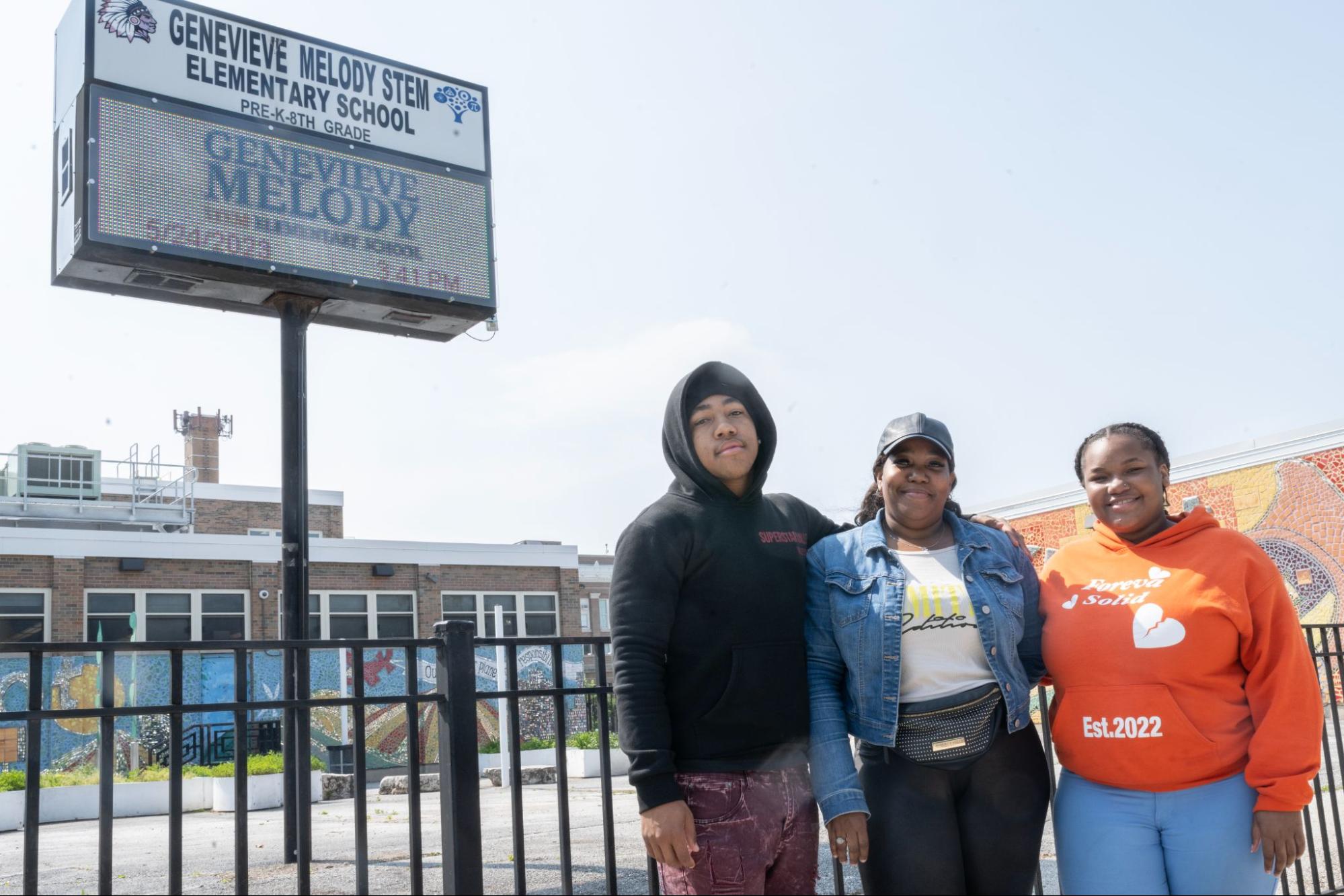 Shakeena Sturgent (center) surrounded by her children, Janaya and Travanti, at their former West Side elementary school, Delano, which closed in 2013. Delano became Melody School and her children enrolled there. Melody worked out for her family for a time but she eventually lost confidence in the school. After a few years Sturgent, like lots of parents whose kids' schools closed, moved her children to a different school. Marc Monaghan/WBEZ
And in the years that followed, these welcoming schools have had a hard time attracting families. Among elementary-age students who attend CPS and live in a welcoming school's boundary, only 38% are choosing that school. That's down from 46% in 2014. About 54% of elementary school families citywide choose their zoned school, and that's decreasing every year as CPS becomes even more of a choice school district.
Hughes is attracting only 32% of the CPS kids in its attendance area. Principal Lucille Howard declined an interview request.
Like parents, many staff members say the welcoming schools weren't ready in 2013 for the sudden influx of children. They had just three months to prepare.
"I think we were all in over our heads," says Amanda Waite, a former counselor and special education case manager at Melody Elementary in West Garfield Park, which more than doubled in size from 293 kids to 618 when Delano Elementary students arrived.
"There was money being pushed through in ways that were not helpful, like putting iPads sets in the majority of the classrooms," Waite says. "I mean, there was thousands upon thousands of dollars. That money would have been better spent on actual adults to work with the kids."
Waite had just moved to Melody from a closed school and convinced some outside organizations she had worked with there to follow. But these programs — one that had kids read aloud to dogs, another that provided mentoring — were more a lucky break for the students at Melody than anything built into the closing transitions.
"We're working so tirelessly just to get the bare minimum done that we just kind of always felt like we were drowning," says Waite, who has since left Illinois. "We just didn't have the time to plan ahead, to do preventative stuff that could be helpful for the children. It was just a lot of reactionary things that we had to do."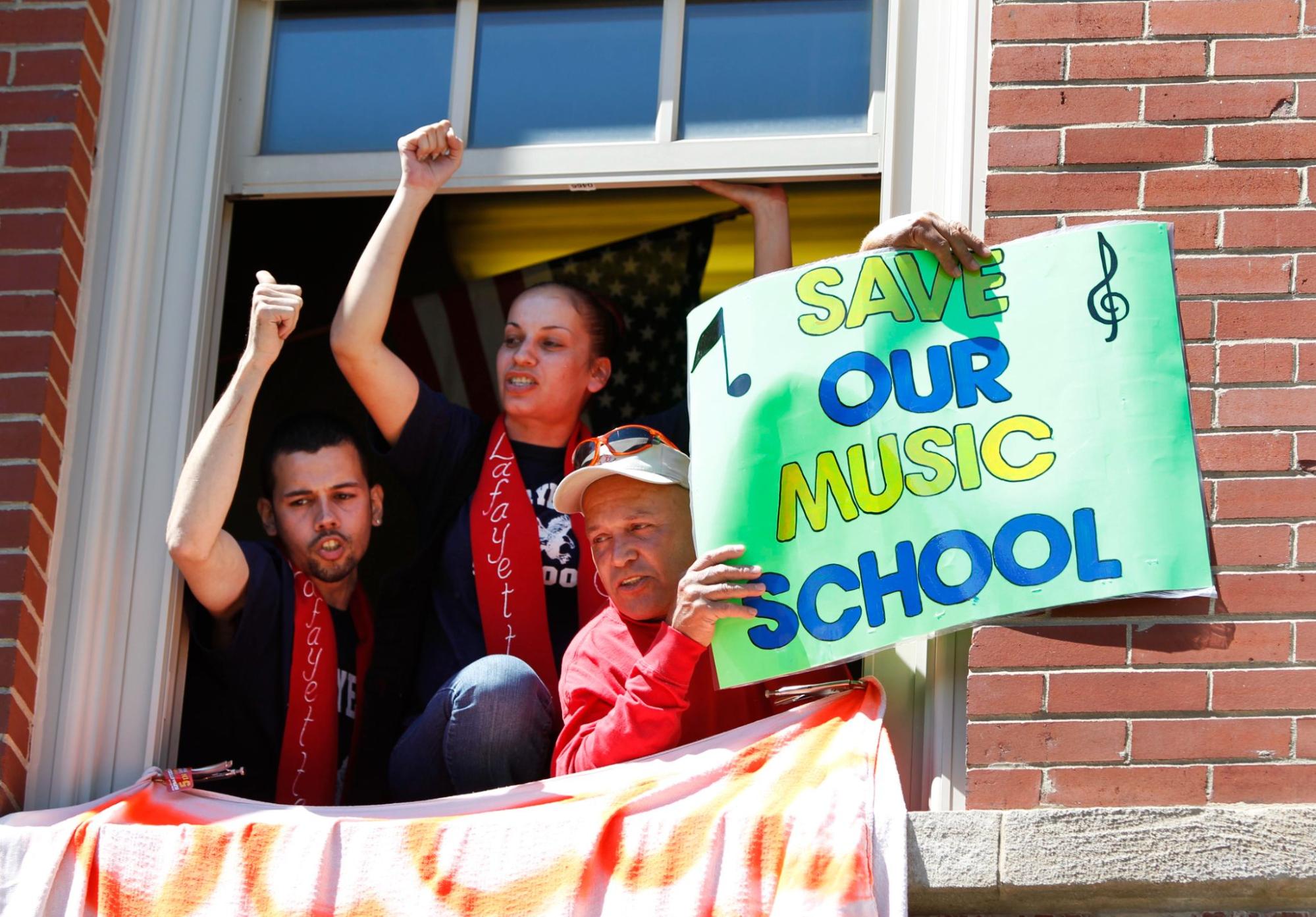 Parent and activist Rousemary Vega, center, and two others occupy a classroom at Lafayette Elementary School on the final day of classes on June 19, 2013, to protest its closing. Students from Lafayette were encouraged to attend Chopin Elementary. Chopin faced a space crunch after Lafayette students arrived. Scott Eisen/Associated Press
Sara Karlin says the same scramble took place at Chopin Elementary near Humboldt Park on the West Side.
She had been at now-closed Lafayette Elementary, which she says had a tight-knit staff and enough space to create a high-quality program for students with autism. She taught there in one of the few preschool programs for autistic children and thought that would be carried over to Chopin. That didn't happen.
"There was just a lot of confusion," she says.
Karlin didn't know where she'd teach the fall after the June closings until the day before classes started. She ran to furniture stores that night to get her classroom ready.
Chopin was immediately crunched for space.
"The first year when we moved to Chopin, it was so crowded that the clinicians were cleaning out broom closets to set up their desks," Karlin says.
---
Strong principals made the difference
Some welcoming schools have done well navigating enrollment and budget losses over the past decade. That usually took strong, consistent principals.
In 2013, Aaron Rucker had recently taken over as the Ryder Elementary principal when the news came that dozens of schools would be closing. At first, he thought Ryder would be among them, then he learned it would stay open and take in kids from Morgan Elementary.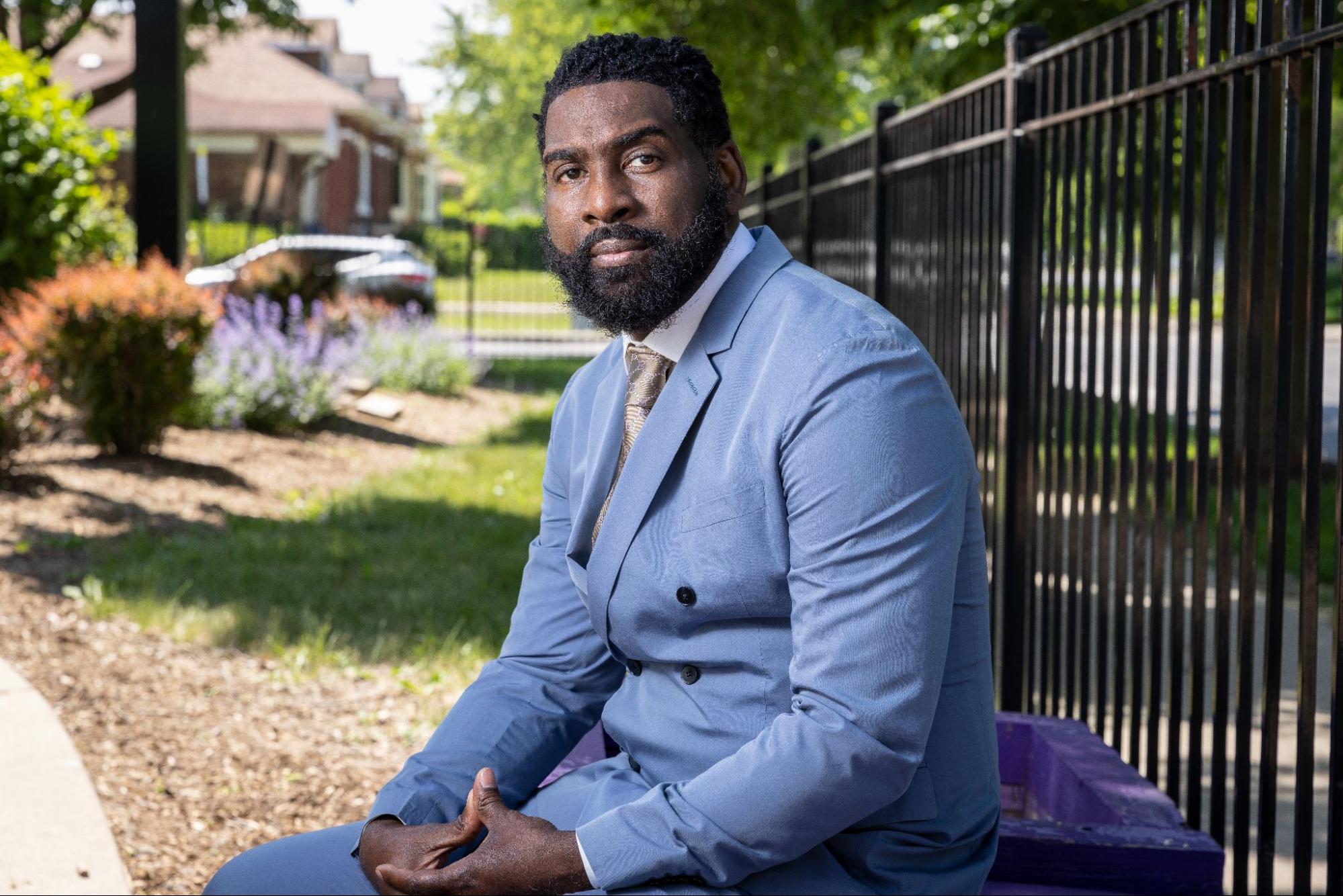 Aaron Rucker started as principal at Ryder Elementary in Auburn Gresham just before it took in students from a closed school in 2013. He says the South Side school received needed investments as a welcoming school and test scores improved after the new students arrived. Manuel Martinez/WBEZ
Most Morgan parents were against the move — they loved their school, and their kids would now have to cross busy 87th Street to get to Ryder.
But Rucker, a former police officer, says the consolidation turned out OK. He let kids vote on their uniform colors, and they picked purple shirts and khaki pants — a change for both sets of students. He leaned on community leaders to help. And he says the new resources and building repairs helped: Walls were patched and painted, elevators were fixed.
"When I first came, our school did not have computers, Chromebooks," he says. "By that first year, we had Promethean Smartboards in every classroom. I had asked and requested Chromebooks for every child. We had two computer labs … It was important to the board, as well as to me, to give our kids every chance, every opportunity and every resource that we could. I would say during the meetings, I feel like we're leveling the playing field right now for our kids."
What really helped maintain the school's reputation was a jump from CPS's lowest rating to the highest in part due to students' improved test scores. Families started to believe in the school, and enrollment stayed consistent until the pandemic. Ryder had 305 kids before the closings, 410 when it took in the new students in the fall of 2013, and stood at 401 students in 2019-2020.
Even though Ryder's enrollment has since fallen by 50 students and its student-based budgeting has declined, Rucker's experience managing budget cuts has helped. He created a committee to appeal cuts each year that the school feels are unfair.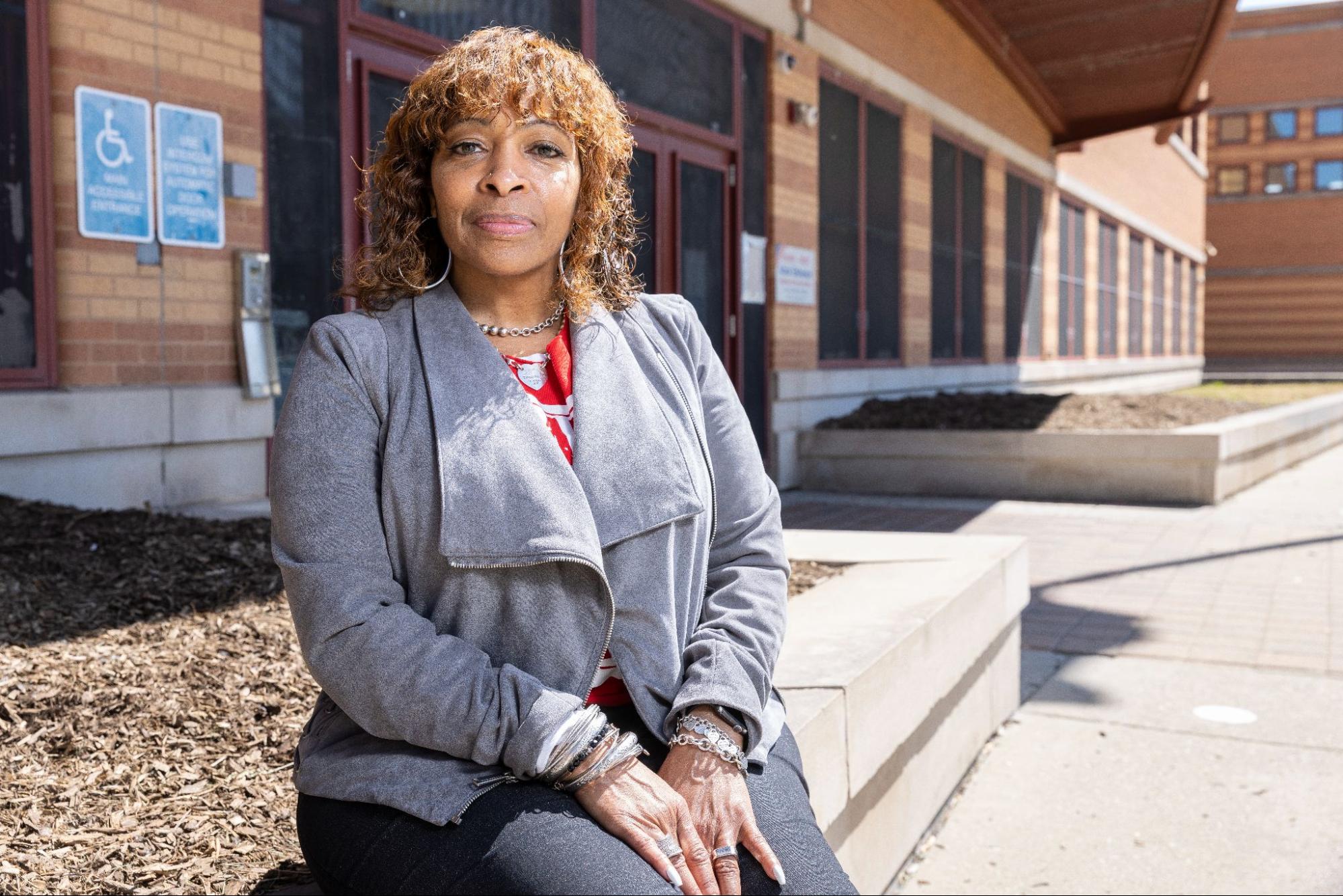 Tracey Stelly has been at the helm of Lavizzo Elementary in Roseland since before it became a welcoming school in 2013. Lavizzo got a rigorous new curriculum that year and says new parents came to like the school. But she now struggles with declining enrollment and the budget cuts that come along with it. Manuel Martinez/WBEZ
Like Ryder, Lavizzo Elementary in Roseland has had a steady principal in Tracey Stelly since it became a welcoming school.
Lavizzo's enrollment didn't grow after the closings — Stelly says only about 50 students came from Kohn Elementary, and they replaced kids who left, so their integration was easier. She also hired two teachers from Kohn to have familiar faces help with the transition.
CPS gave Lavizzo an International Baccalaureate program, a "rich program" with a rigorous curriculum and training that is still there and has helped the community, Stelly says. Like Ryder, Lavizzo's test scores rose after the closings.
"The parents from Kohn were saying to me, 'I am glad my children are with you,'" Stelly says. "It is not so much that they were glad Kohn closed. It was just what their kids have done at Lavizzo."
Lavizzo is in a poor neighborhood with a lot of violence. In 2021, an eighth-grader who had attended the school since kindergarten was shot to death, and then a few days later his mother was killed in the same place.
"That was the hardest thing that I've ever had to go through," Stelly says.
Families have fled the community, in part, Stelly says, because "there hasn't been much development in the area."
Lavizzo now has about 15% fewer students than it had in 2014. The principal fights every year to keep budget cuts from hurting the school and students.
"So having to be really, really creative in programming and be savvy as a school leader, as someone who has to talk politically to people, and to be the voice of the community, that's something [where] I have be able to really grow as a school leader and to get all the bang for the bucks," Stelly says. "I am continuously having to figure out that in order to keep my teachers – no matter how the enrollment fluctuates."
About Chicago's 50 Closed Schools project
This series was reported by Sarah Karp, Lauren FitzPatrick and Nader Issa. Additional data reporting by Alden Loury and Chalkbeat Chicago. Data visualizations and web design by Jesse Howe. Photographs by Tyler Pasciak LaRiviere, Manuel Martinez, Marc Monaghan, Pat Nabong, Ashlee Rezin, Brian Rich and Anthony Vazquez. Editing by Paul Saltzman, Candi Meriwether, Jennifer Tanaka, Mendy Kong and Courtney Kueppers. The project editor is Kate Grossman.