10 years after mass CPS school closings, enrollment is even worse. What can be done?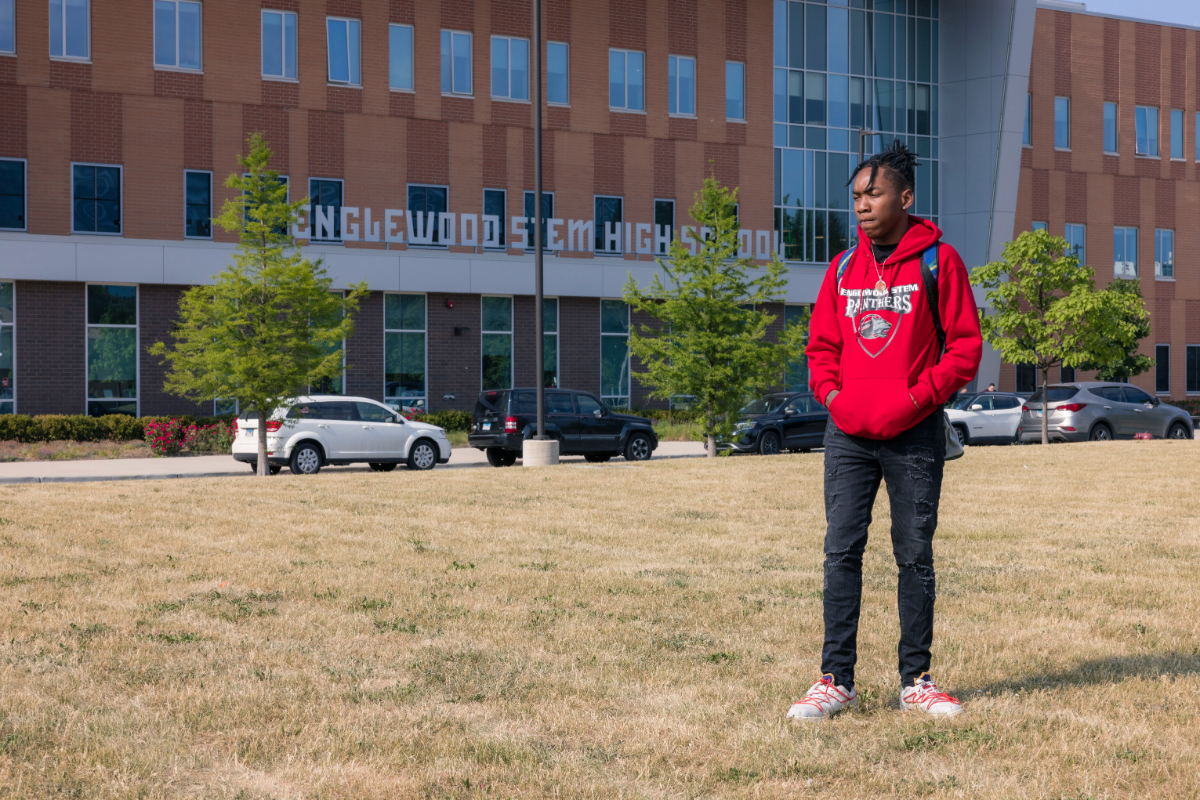 Elijah Stiffend is a class of 2023 graduate of Englewood STEM High School, which opened in 2019 to consolidate incoming students from four underenrolled nearby high schools closed by Chicago Public Schools. This is one model proposed as an alternative to mass closings of low-enrollment schools. Anthony Vazquez/Sun-Times
Ten years ago, Chicago Teachers Union organizer Brandon Johnson stood at the front of a protest against the city's plan to close 50 underenrolled public schools.
"I think you might be able to guess where we're going," he told thousands at Daley Plaza ahead of a march. "City Hall, baby. City Hall."
Today, as mayor, Johnson controls City Hall and a Chicago Public Schools system that's again facing problems much like those of 2013.
Dozens of schools are significantly underenrolled. They're in buildings badly in need of repairs, and CPS doesn't have money for that as budget deficits loom. Many are in communities facing population loss, disinvestment and safety worries.
Ten years ago, closings were sold to the public as a way to deal with low-performing and underenrolled schools by sending students to other schools to make the best of available resources. Cities like Minneapolis, Boston and San Francisco are discussing closings for these same reasons.
But as the Chicago Sun-Times and WBEZ have reported, kids aren't better off as a result of moving to other schools in 2013, those "welcoming" schools are now facing problems and the already worn-down buildings aren't easily sold or redeveloped. Meanwhile, the long-term savings from the closures don't appear as dramatic as officials predicted.
This time, Chicago's path forward falls to Johnson. He strongly opposes closing schools, calling it an ineffective and harmful strategy. But the new mayor faces powerful headwinds in his attempts to find alternate solutions.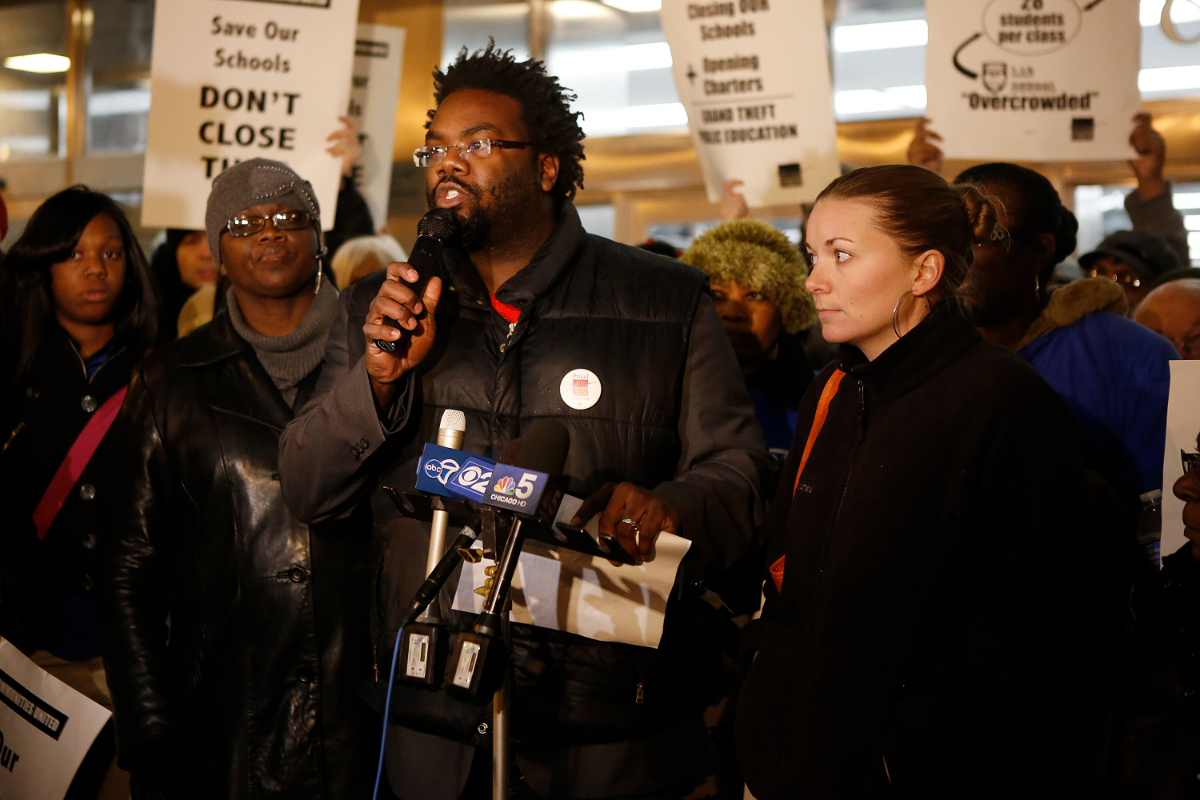 In his former role as a Chicago Teachers Union organizer, Brandon Johnson spoke out in December 2012 against the plan to close a large number of underenrolled Chicago public schools. Andrew A. Nelles/Sun-Times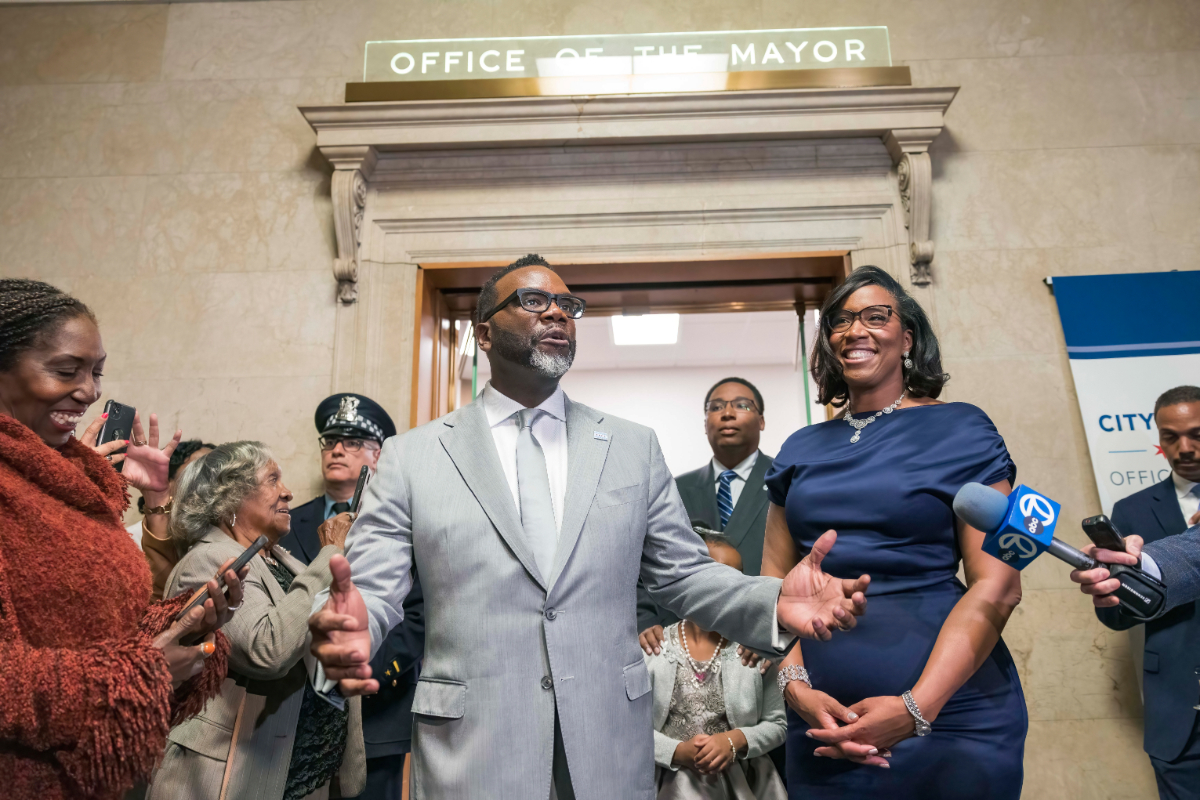 Mayor Brandon Johnson at the doors of his new City Hall office on his first day as mayor on May 15. Johnson opposes closing schools, calling it an ineffective and harmful strategy. Anthony Vazquez/Sun-Times
In 2025, a projected $628 million structural deficit is expected when federal pandemic relief funding runs out. A school closing moratorium also expires that year. Then, Chicago's fully elected school board will be seated in January 2027, stripping the mayor of full control of schools decisions.
That's aside from the challenges that have already piled up.
In the decade since the city closed a record 50 schools, Chicago Public Schools's enrollment has dropped by another 81,500 students. That's nearly three times the enrollment decline in the 10 years before the 2013 closings. Over the past 20 years, CPS enrollment has fallen by 116,500 students.
CPS projects it would cost at least $10 billion to repair and modernize its schools.
And Johnson still has to deal with vacant buildings left over from past closings, including 26 from 2013, 16 of them still government-owned.
CPS's enrollment decline accelerated between 2013 and 2023, outpacing the drop before the 2013 mass school closings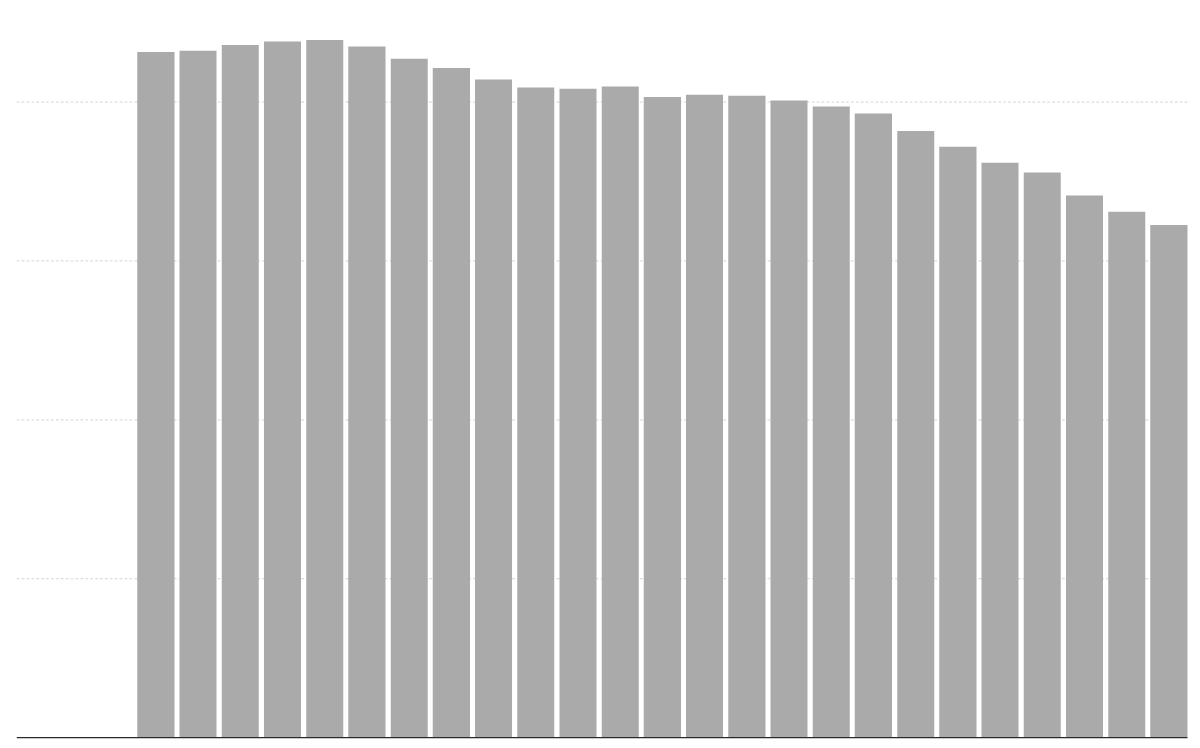 400,000
300,000
200,000
100,000
0
Source: Chicago Public Schools
Johnson's charge? Support small schools in cost-effective ways and, simultaneously, address neighborhood woes to convince residents to stay while luring in new ones.
Experts say that will require heeding a key lesson from the failures that followed the 2013 closings: The school district can't do this alone. It needs broad strategic planning from city government, where leaders have a fuller grasp of resources and communities' needs. Some experts also discourage selling vacant school buildings, saying they should be repurposed for public benefit.
"What's unfortunate about the way education is discussed in most contexts [is that] most of the time, the conversation around education is centered around how we contain, control and reduce it," Johnson said in an interview, "versus build, strengthen and reimagine."
Did Chicago keep its promises?
---
In 2013, Chicago Public Schools shuttered 50 underenrolled and low-performing schools in the largest mass closing in U.S. history. This impacted 13,646 children from the closed elementary schools. Up to another 17,000 students were affected as their schools welcomed students from closed schools. To mark the 10-year anniversary, we are publishing stories over four weeks that examine three promises made by public officials in 2013: The students would be better off; their new schools would be transformed; and shuttered schools would be reborn as community assets.
Tell us your story
---
We want to hear from you — whether it's to share your own story about living with the 2013 Chicago school closings or to offer feedback on our reporting on how schools and communities were affected by the closing over the last 10 years. Connect with us using this form.
---
Small schools, big costs
Under the district's current model, small schools are expensive.
About 100 of Chicago's 514 district-run schools had fewer than 250 students this year in buildings designed for many more. Five high schools enroll less than 100 students. But even with few students, the schools still need a principal, an assistant principal and a clerk, in addition to the cost of operating their buildings.
On average, CPS spends $12,500 per child at elementary schools with more than 500 students and $10,500 per kid in high schools with more than 1,500 kids, a Sun-Times and WBEZ analysis found.
In buildings with fewer than 250 students — where economies of scale are hard to achieve and there's a larger share of students in expensive special education programs — those figures skyrocket to $20,000 per pupil at elementary schools and $32,000 at high schools.
Despite high spending, it's not clear those students actually receive a robust education. To afford the basics for few students, schools often have to get rid of librarians, social workers and other support staff.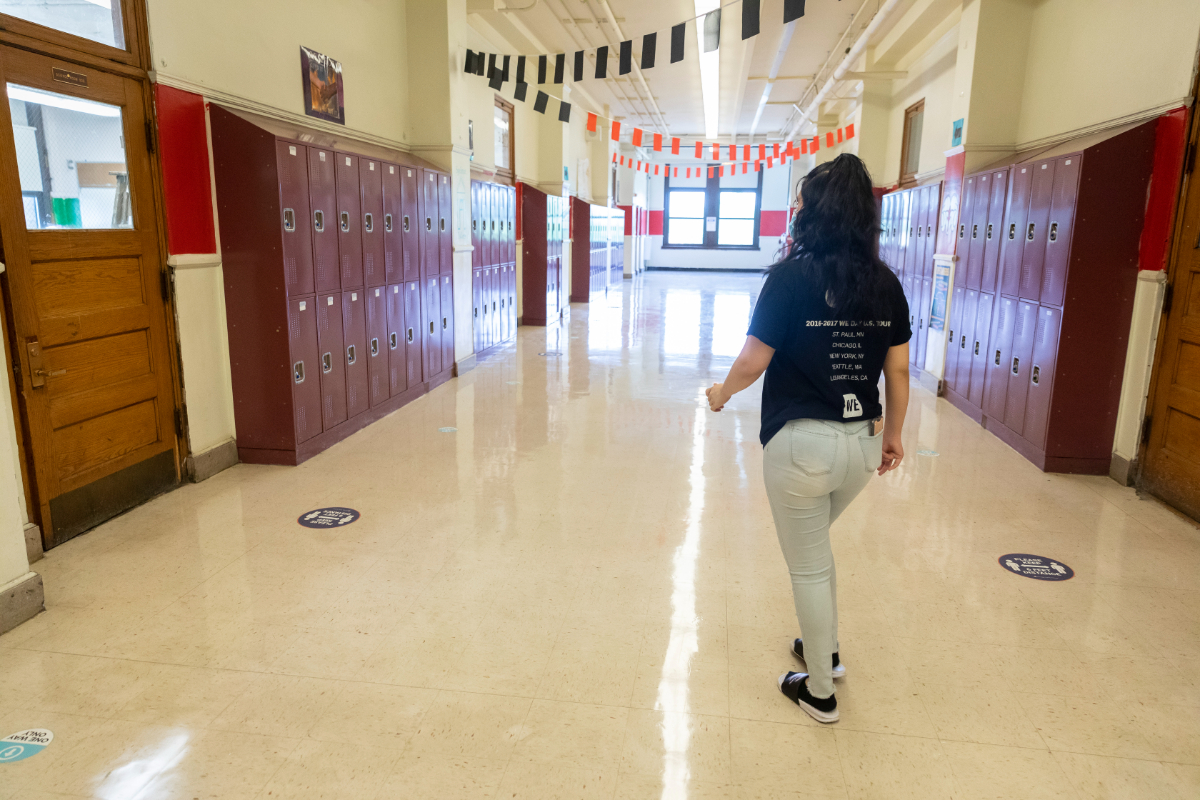 A graduating senior walks the halls of Harper High School in Englewood in June 2021 just before the school building was closed because of low enrollment. It was one of four South Side high schools closed to make way for a new Englewood STEM High School. Manuel Martinez/WBEZ
But quality small schools exist — especially if they're by design and not the result of decline. They offer clear benefits, including more attention for each student. And not every kid wants a big school experience.
To create successful small schools, Johnson and his CPS team will have to consider redesigning schools with more intentional educational models, experts say. That might mean a projects-based curriculum with a teaching staff built for that purpose. Or sharing art, music and sports teams among schools in close proximity.
Pedro Martinez, Johnson's inherited CPS CEO, says small schools are a "huge opportunity" to rethink school options. He wants to establish focuses like aviation or technology, rather than the array of classes in a typical high school. Martinez says officials already are discussing changes, including one for Collins High School, home to 223 students. CPS already offers examples like medical and military specialty high schools.
Other models floated include inviting organizations into unused space to offer students or residents job training or mental health services. A number of schools today now occupy only a small piece of massive buildings, even if enrollment is otherwise reasonable. Sixty buildings are less than 30% utilized.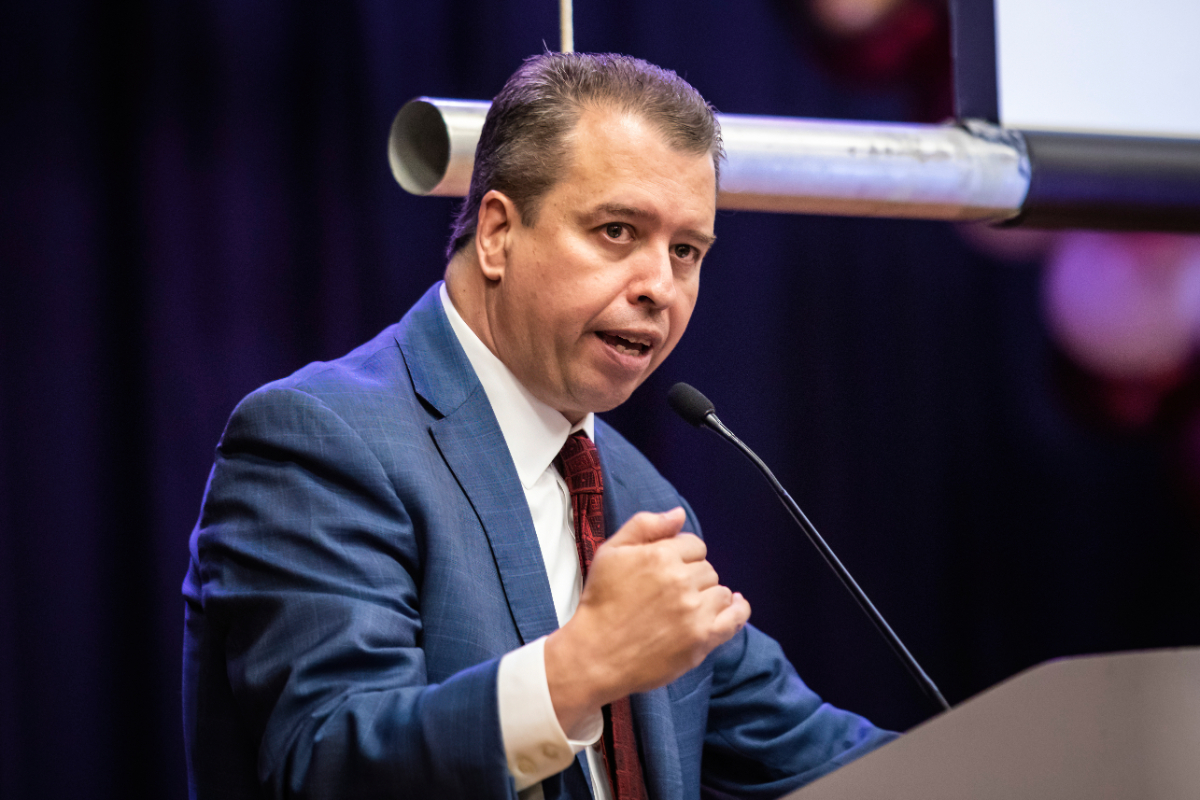 Chicago Public Schools CEO Pedro Martinez has run the school district since September 2021. He argues that the costs of closing 50 schools in 2013 — in terms of lost trust, the challenges of moving children and schools remaining vacant 10 years later — outweigh any benefits. Ashlee Rezin/Sun-Times
If Chicago does embrace small schools, advocates say that would require a change to the school system's funding formula — from an enrollment-based calculation to a needs-based one — to ensure low enrollment doesn't automatically equal limited funding. CPS has already begun this transition toward ensuring all schools can provide certain offerings regardless of school size.
---
Difficult decisions ahead
This all requires more money.
CPS only has 75% of the public funding it needs to adequately serve its students, state officials say, leaving CPS about $1.4 billion short each year. Federal pandemic funding has papered over those shortfalls, but that money runs out in 2025.
If Johnson and other leaders can't secure more funding from the state, they will face difficult decisions.
One option might be the Englewood model of consolidation used under former CPS CEOs Forrest Claypool and Janice Jackson, Martinez's predecessors. CPS closed four tiny high schools in the South Side neighborhood, consolidating students into the new $85 million Englewood STEM High School.
Closing the schools drew criticism, but Jackson stands behind it.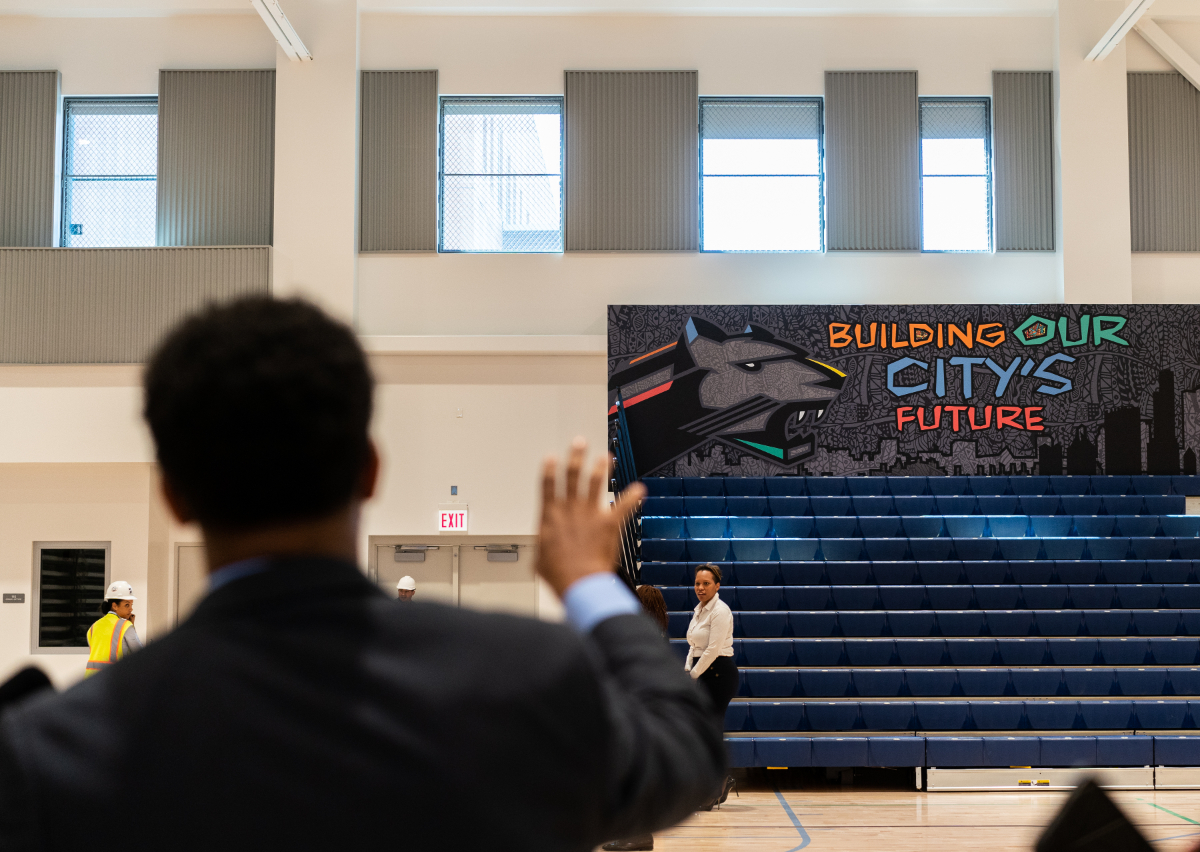 Englewood STEM High School, which opened in 2019, was conceived and built in the aftermath of the 2013 mass closings as a new way to deal with underenrolled schools. Max Herman/Sun-Times
"I tried to prove how you could do it in a way that was respectful and also reinvested in the communities," she says. "We could've kept those four schools open in Englewood, where 90% of the kids who lived there went [to schools] somewhere else, and pretended like that didn't matter."
Jackson says Chicago needs to consolidate schools in new buildings in "probably seven or eight communities across this city just to account for the changes that have happened."
"You can't take away those institutions lightly because they're the most well-resourced institutions in any community," Jackson says. "But you can do it with the community and replace it with something that is even better for them and more well-resourced."
---
Dealing with old buildings
Even when schools have staffing and academic offerings, educators and students need buildings in good repair. But paying for that could be the biggest impediment to avoiding future closings.
The average public school building in Chicago is 82 years old. A total of $3 billion in emergency repairs are needed across the school system. An analysis of CPS facilities needs is due by the end of the year, including those critical fixes plus the cost to modernize schools. Martinez expects that figure to be at least $10 to $12 billion.
"Every time I go to a newer building … how do I even compare this experience to one of our oldest buildings — buildings that have a lot of deferred maintenance issues, have issues with heating, and AC, and have roof issues. And they don't have new bathrooms," Martinez says.
"For me, it's the most stark inequity that I can imagine in the district."
Chicago's only way to tackle construction projects is by borrowing or taking money from the budget for operating the city's schools. Nearly every other school district in Illinois can ask voters to decide whether to temporarily raise taxes to support school renovations. Martinez wants state lawmakers to give CPS that same authority.
Part of Emanuel's justification for shuttering the 50 schools was avoiding costly renovations in half-empty buildings.
But "it's also expensive to mothball buildings," says Jeff Vincent, a director and cofounder of the Center for Cities + Schools at the University of California Berkeley. "You can't just not do anything to them."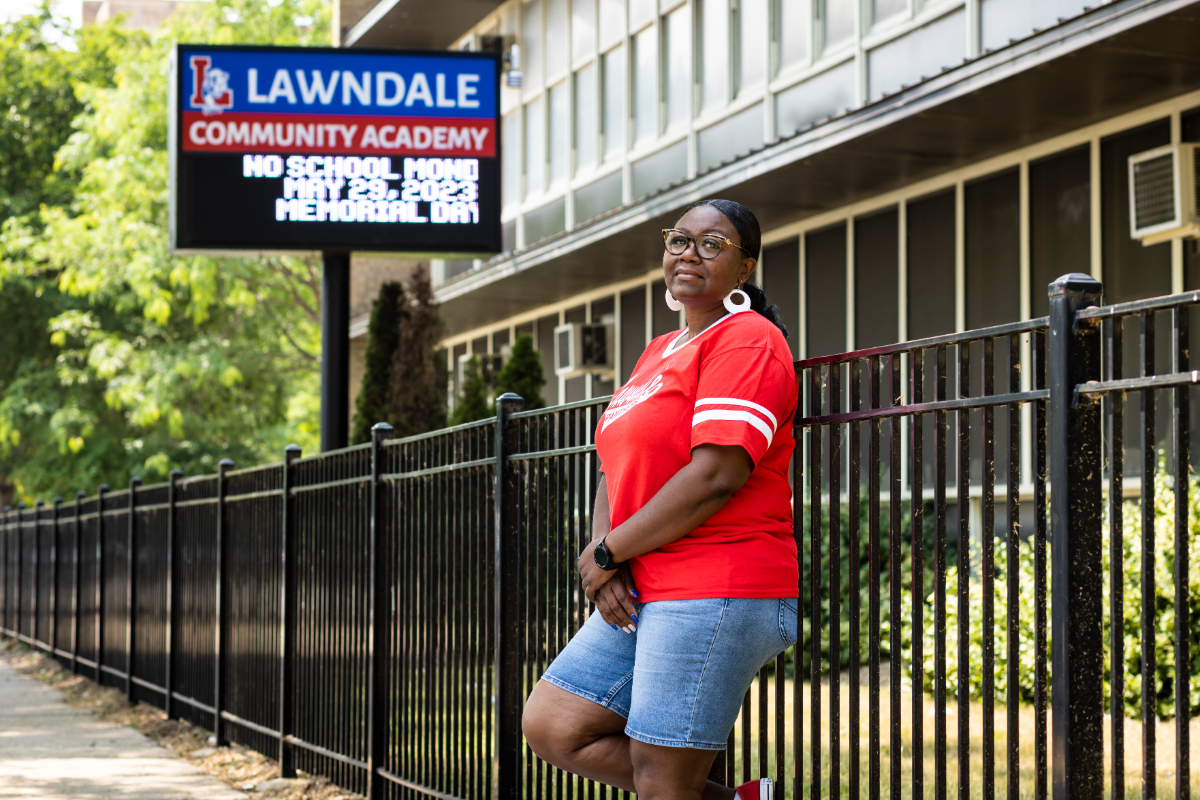 Shavon Coleman, a teacher assistant at Lawndale Community Academy, says residents generally don't leave the community because of the schools. She says It's more about violence and a lack of affordable housing in the area. Ashlee Rezin/Sun-Times
---
'Why not invest in us?'
Addressing other factors that cause families to move — like gun violence and a lack of jobs, grocery stores and places for kids to hang out — can be as consequential as the classes a school offers. If the city can't convince residents to stay, then losing students is a foregone conclusion.
"Why not invest in us?" asks Shavon Coleman, a teacher assistant at Lawndale Community Academy, one of three schools that CPS looked to consolidate into a new building in a proposal that stalled in 2020.
"You might be able to bring some people back if you put affordable housing in the neighborhood," Coleman says.
"It's not education that's driving the people out of this area. … I believe all schools are good schools. … It's just the resources we're given or not given to make all of these things come together."
Alternatives to mass school closings
---
Swapping clusters of closed schools for one new school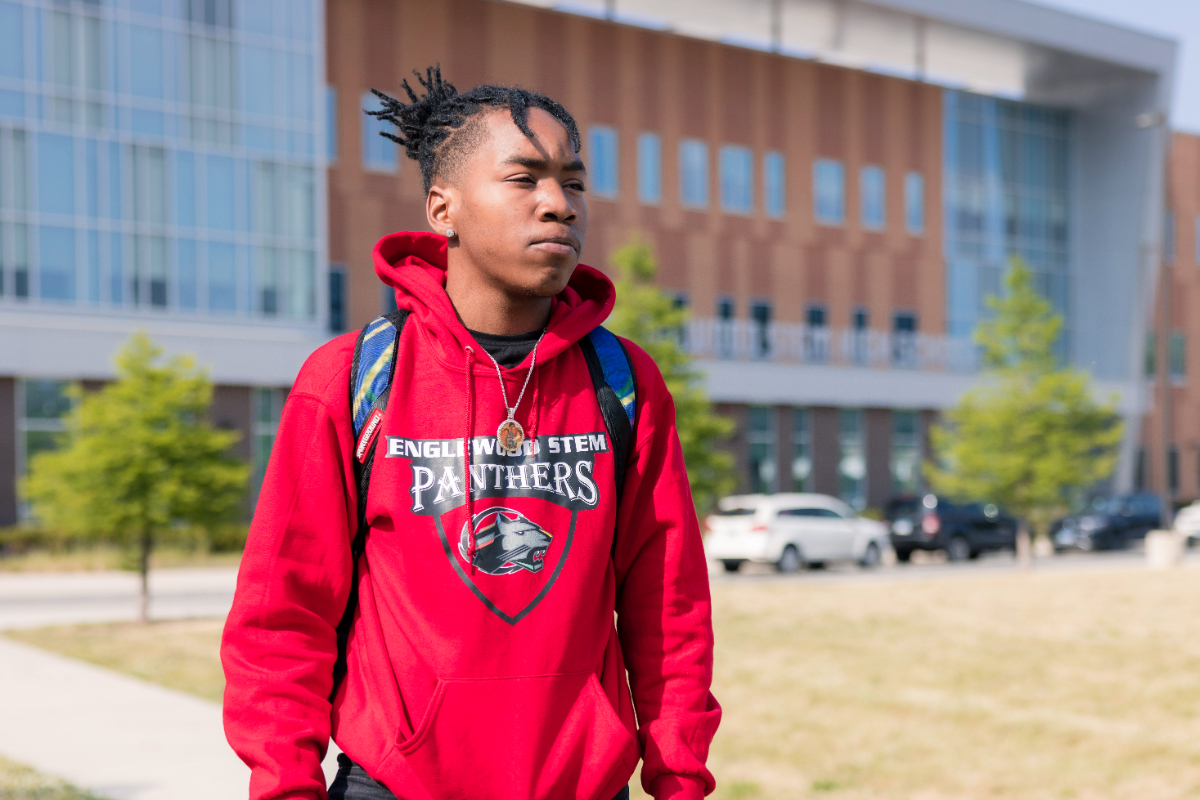 Elijah Stiffend is part of Englewood Stem High School's first graduating class this year. He says he's had a good experience at the new school that serves the larger Englewood community, though the school is now attracting fewer kids than it did four years ago. Anthony Vazquez/Sun-Times
Spotted on Instagram: Englewood STEM High School students crowd into the gym, dancing and singing to a hip-hop love song. "First graduating class of the school," the tagline reads. "Congrats y'all keep pushing forward and don't give up."
Not long ago, a picture like this, of a robust graduating class from a neighborhood high school in Englewood, would have been unimaginable. For more than a decade, Englewood's schools were losing enrollment by the hundreds, leaving behind tiny schools with few graduates.
Then, the school district decided to close four high schools, but with a key difference from 2013: In exchange, officials offered up this state-of-the-art $85 million new school. Mayor Johnson has said he won't close schools, but many wonder if giving something to communities, rather than just taking away, would be a workable alternative.
Consolidating multiple schools in new buildings also can be a less expensive way to get students into modern buildings than renovating old schools. And new schools can attract students who otherwise wouldn't have chosen their neighborhood schools.
Elijah Stiffend and Calvin Williams say they were excited as freshmen to attend the new Englewood STEM. Now seniors, they say they never would have attended Robeson, which was torn down to make room for the new school. On one visit they found the Robeson bathrooms "dirty, messed up, stinking," Williams says.
Instead, at Englewood STEM, "everybody [has] fun, everybody worked with you, everybody talking nice, everybody respectful and everybody just gets each other," Stiffend says.
The Englewood model is expensive in the short term. It also leaves communities with empty school buildings that are hard to redevelop and requires clusters of severely underutilized schools nearby to consolidate.
And the number of neighborhood families choosing Englewood STEM has fallen off significantly. In 2019, 414 freshmen enrolled. That's nearly 40% of those in the attendance boundary, according to CPS. This year, the school attracted 138 freshmen and overall enrolls about 18% of local high school students.
The principal did not comment. CPS officials attribute this drop to neighborhood safety concerns.
Standing at the school's track, Coach Fabray Collins says a shiny new building alone does not create community or opportunity. Collins coached for 28 years at Robeson, his alma mater, which he says was undermined by charter schools nearby and disinvestment. But the teachers and staff there were invested and cared for the kids. Robeson, he says, "was home."
---
Supporting small schools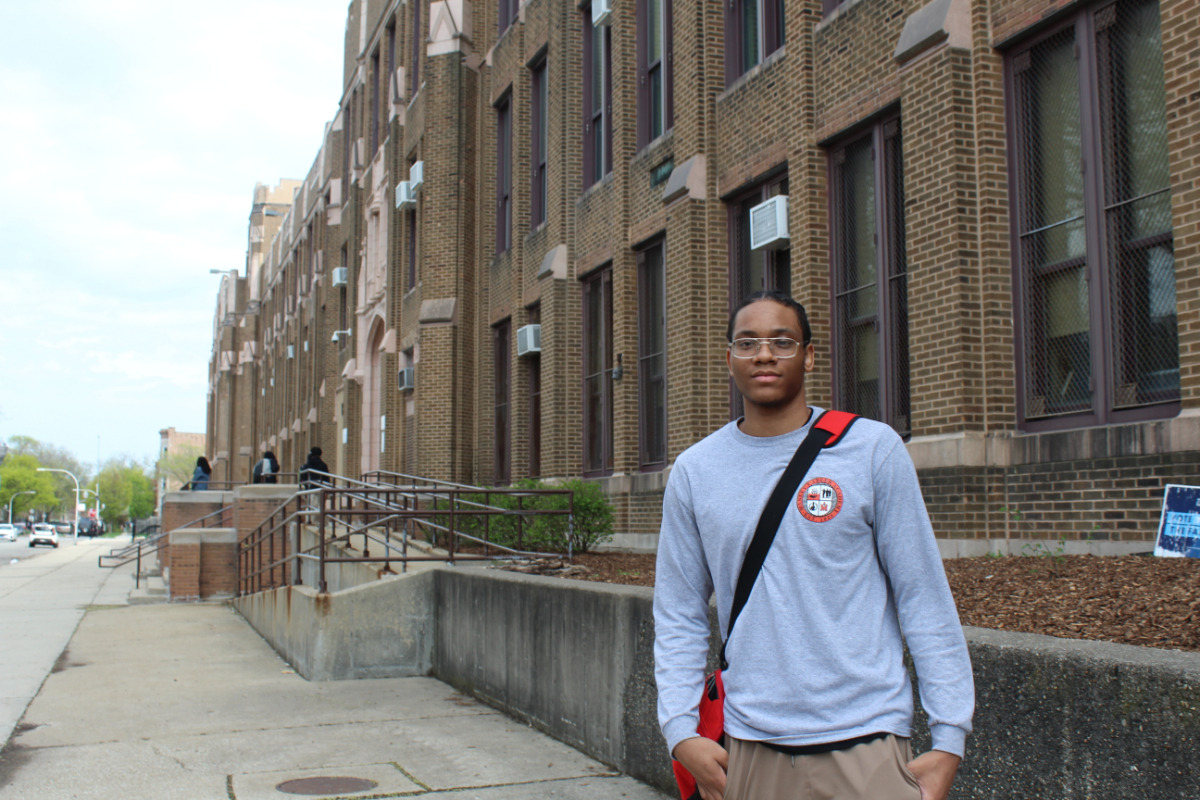 London Revis is a 2023 graduate of Manley Career Academy, a West Side high school with fewer than 100 students, where he spent all four years. He liked the intimacy and extra attention available at a small school. Lauren FitzPatrick/Sun-Times
Housed in one of Chicago Public Schools's older, larger buildings, Manley Career Academy High School on the West Side is CPS's second smallest school, fluctuating between 70 and 87 students this year.
Private school families pay handsomely for small classes, here an average of 20 kids. Many Manley students also see a chance to "build bonds faster," says junior Jeremiah Brundidge, who recently moved from a big school in Rockford. "Since there's lesser kids, [teachers] will have more time to help you or give more tutoring opportunities."
For kids like Jeremiah, the narrative that schools with low enrollment are a problem to solve doesn't add up. He and others see these schools offering real opportunity.
Small class sizes can be especially helpful for students with disabilities and those in poverty. These kids are often concentrated in low-enrollment CPS neighborhood schools where anyone living in the attendance boundary can attend. About 44% of Manley students are in special education. CPS's average is 15%.
Unused space in these schools can become a positive if the district brings in other organizations. Manley's vast building is also used by CPS network administrative staff who work with 28 schools on the West Side. Elsewhere in the city, CPS spends $690,000 annually to lease such offices.
But running small schools requires a system-wide strategy. At a school like Manley, its small size came through attrition, not design. CPS doesn't have staff needed to focus on finding uses for extra space.
Without planning, small schools are expensive. Manley had about $2.5 million to spend this year — $30,000 per student — plus $770,000 for special education services. Compare that to Michele Clark College Prep in Austin, which enrolled 421 students and was allocated about $7.1 million or $17,000 per student, without including special education.
Every school, regardless of size, needs a principal and a counselor. And they want to offer a wide variety of classes, which is costly with few students.
Manley manages to offer music by sharing a teacher with nearby Douglass, CPS's smallest high school of 34 students. For prom, they joined forces with Crane Medical Preparatory High School. A football team is planned for the fall in tandem with a charter school. Counseling and other enrichment come from a nonprofit partner, Embarc.
And Manley and schools like it remain a safety net for students who struggle elsewhere.
A sophomore who enrolled in February after a bad experience at a charter school says she chose Manley "because … really no other schools [were] accepting me. So I just came here."
Another student, London Revis, is an aspiring barber who's spent all four years at Manley. He's enjoyed the extra attention in courses as small as seven students. Plus he knows everyone.
But his freshman class of 40 has winnowed to 15 seniors.
"Since we don't have a lot of kids, a lot of people don't want to stay," Revis says. "At first, I kind of was thinking the same thing — like, I want to go to a bigger school. But then as time went on, I realized this is actually not a bad thing. Because if I actually need help, I got a higher chance of getting it."
---
Boosting enrollment with community help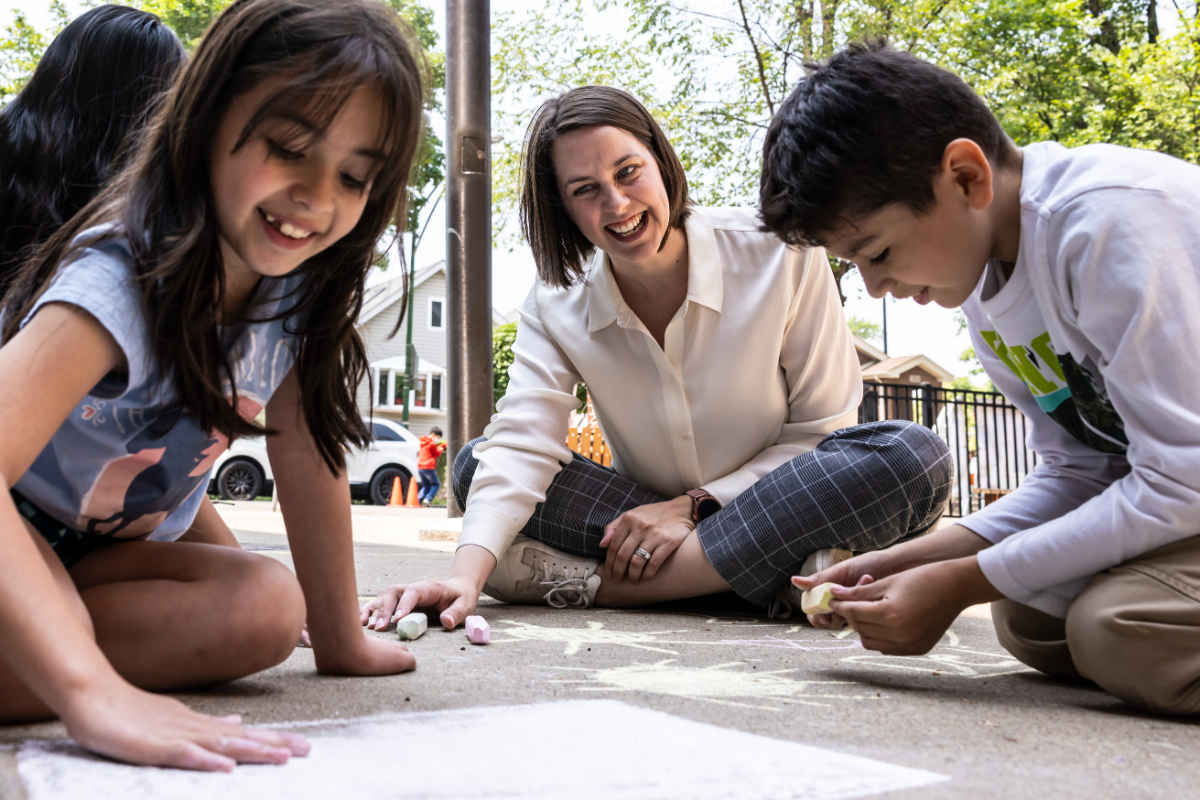 Principal Sara Haas plays with students during recess this week at Brighton Park Elementary School, which has seen its enrollment decline. Haas' "sustainable community school" is open to the community and parents. The hope is that the community will buy into the school and ultimately more parents will choose to send their children. Ashlee Rezin/Sun-Times
Principal Sara Haas cherishes a cozy room inside Brighton Park Elementary filled with artificial flowers, arts and crafts and an all-important coffee maker. From here, she says, the school's direction is born.
Many schools have parent rooms. But the one in Brighton Park on the Southwest Side is the hub of this "sustainable community school."
Mayor Johnson and city leaders think this initiative, if done right and on a large scale, could solve enrollment and utilization problems at Chicago Public Schools.
But it's an expensive long-term proposition.
The idea is that school leadership shares power with the community. Together they decide what's needed and bring those programs and services into the school. This can include mental health services, sewing or ESL classes for the community and after-school activities. A case manager can help struggling families.
The Chicago Teachers Union pushed for sustainable community schools in response to school closings, saying the city should instead invest in schools and let communities choose programs, curriculum and services. In the 2016 contract negotiations, the teachers union convinced the school district to give 20 schools $500,000 for the initiative. That turned into $50 million over the course of the 2019 contract.
Brighton Park's enrollment has dropped by 176 students since 2018, and the school district rates the building as less than half utilized.
But for Haas, "we very much grow to fill our space so even as spaces do become available, we quickly find a use for them."
The hope is that eventually, the community buys in and more parents choose the school.
"So how do you get that school out of the enrollment slump?" asks Jen Johnson, a former CTU official named as deputy mayor of education. "When the model is adhered to — meaning that there is real shared decision making, where parents are welcome to lead, where students are welcome to lead — that's going to boost relationships, and those students and families are going to tell their friends about how great the school is."
Sustainable community schools are part of the Johnson administration's vision of steering away from a system of choice back to an emphasis on neighborhood schools. Most children do not attend their local school.
Jen Johnson says parents should have choices, but she doesn't want families to feel they need to cross the city to find a good school.
But sustainable community schools have yet to help turn the tide on declining enrollment.
And, to achieve this vision, each school needs a strong community partner, which does not exist everywhere.
Brighton Park Elementary works with Brighton Park Neighborhood Council. Veteran director Patrick Brosnan says much of what the organization provides should become part of the fabric of the sustainable fundings schools should have.
The framework, he says, should change from "extra" to expected.
About Chicago's 50 Closed Schools project
This series was reported by Sarah Karp, Nader Issa and Lauren FitzPatrick. Additional data reporting by Alden Loury and Chalkbeat Chicago. Data visualizations and web design by Jesse Howe. Print design by Bryan Barker. Photographs by Tyler Pasciak LaRiviere, Manuel Martinez, Marc Monaghan, Pat Nabong, Ashlee Rezin, Brian Rich and Anthony Vazquez. Editing and production by Paul Saltzman, Candi Meriwether, Jennifer Tanaka, Mendy Kong and Courtney Kueppers. The project editor is Kate Grossman.