Chicago promised students would do better after closing 50 schools. That didn't happen.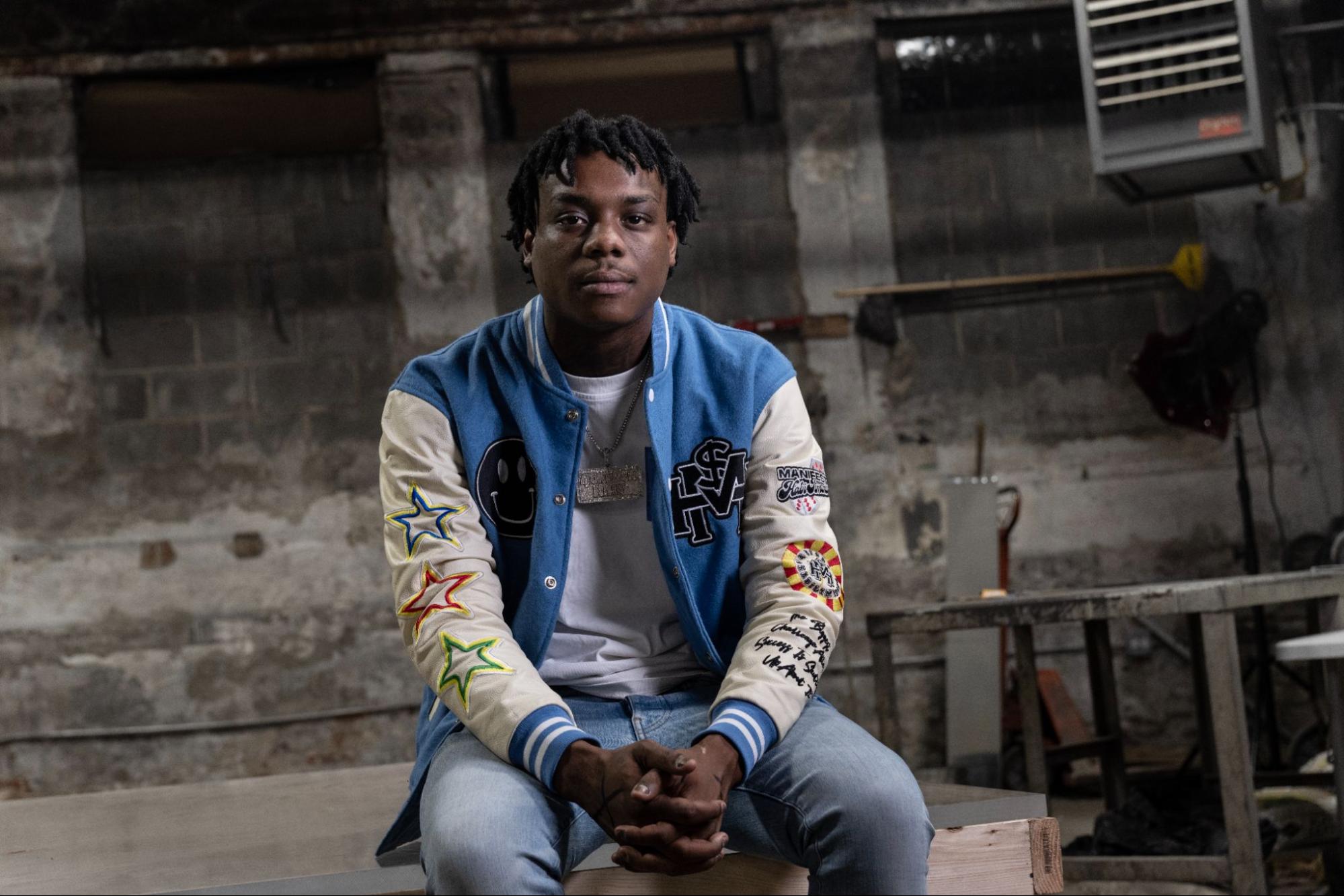 Archie Hayes, now 20, was in fourth grade when his North Lawndale school closed. He saw no improvement in the schools where he transferred, including one where CPS sent him. Now a rapper, he recently signed with a major label. Marc Monaghan/WBEZ
When Chicago officials were closing Henson Elementary in North Lawndale, Archie Hayes was sad that he might never see his friends or teachers again. But he assumed his next school would be a big improvement.
"If there's not that many students here or enough going on in this school, what [can] the next school do better?" Hayes remembers wondering in fourth grade.
Hayes, now 20, never had a stable school situation again. Before getting his high school diploma, he attended three more elementary schools, then three high schools. The first two, just blocks from Henson, didn't seem much different.
"We all have the same amount of students [and teachers] teaching the same stuff," he says.
Worried that those schools might also close, his mother enrolled Hayes and his brother at a school in west suburban Berwyn — one with more resources, field trips and sports teams. But when Hayes saw other kids graduate from eighth grade with friends they had known most their lives, he longed for his childhood buddies.
"It was really hard for me," he says.
Today, the Henson school building is still sitting vacant, "staring at us," Hayes says.
Ten years ago, Chicago officials closed 50 schools in large part because they said Chicago Public Schools had too many seats for too few students.
At the same time, federal education policy promoted closing struggling schools or firing their entire staff and handing their management to private companies — and other cities closed schools, too, in the name of school reform.
Former Mayor Rahm Emanuel and then-Chicago Public Schools CEO Barbara Byrd-Bennett seized on the moment and the rhetoric. They promised the 13,646 K-12 students about to be displaced that they would be saved from their low-performing schools and have spots reserved for them in schools the system deemed better.
"What drove the decision was that our educational system is not living up to the full potential of our children." Emanuel said in March 2013. "This is a difficult decision."
He pointed to a need to improve graduation rates, especially for Black students, saying, "the status quo is not working."
Yet, a decade later, the promises Emanuel and Byrd-Bennett made to those children haven't held up, a Chicago Sun-Times and WBEZ investigation has found.
---
The academic promise
The academic outcomes for K-12 students from the closed schools weren't better than for children who attended similar schools that stayed open, an analysis of state and city data shows. And their outcomes were far worse than the city averages.
For the Sun-Times and WBEZ analysis, students from those comparison schools were included because their schools had similar demographics and similarly poor academic performance as the closed schools but had been spared from a prior list of 129 schools CPS had threatened to close. They also weren't assigned to receive students displaced by the closings.
These kids came mostly from low-income families and had lots of needs. About 89% of the K-12 kids from closed schools were Black, in a school system in which only 41% of students were Black. Hispanic students made up about 9% of the closed schools' populations. White kids accounted for fewer than 1%. WBEZ and the Sun-Times obtained the data from the Illinois State Board of Education through a special data-sharing agreement.
K-12 students who attended the closed schools and took the SAT averaged under 800 points of a maximum possible 1600 — in the 14th percentile nationally and about the same as kids from the comparison schools, the analysis shows.
Of the children who could have graduated by the spring of 2022, only 62% did so from an Illinois public school — slightly under the number for students in the comparison schools and lower than for kids citywide.
The results weren't better, as Emanuel had promised. The former mayor didn't respond to requests for comment. Neither did Byrd-Bennett.
About 14% of the students are considered as having dropped out by state officials. The outcomes for the rest of the children remain a mystery — the likely possibilities include moving out of state, transferring to a private school, dropping out or remaining in CPS.
Chicago Public Schools says it received notice that at least 66 children died.
Elaine Allensworth, director of the University of Chicago Consortium on School Research, says the Sun-Times and WBEZ findings show the closings "didn't do anything to fix all the structural inequalities that are leading to lower outcomes in the first place."
"We definitely need different strategies than closing schools or sending students to different schools if we're going to combat these larger societal inequities," Allensworth says.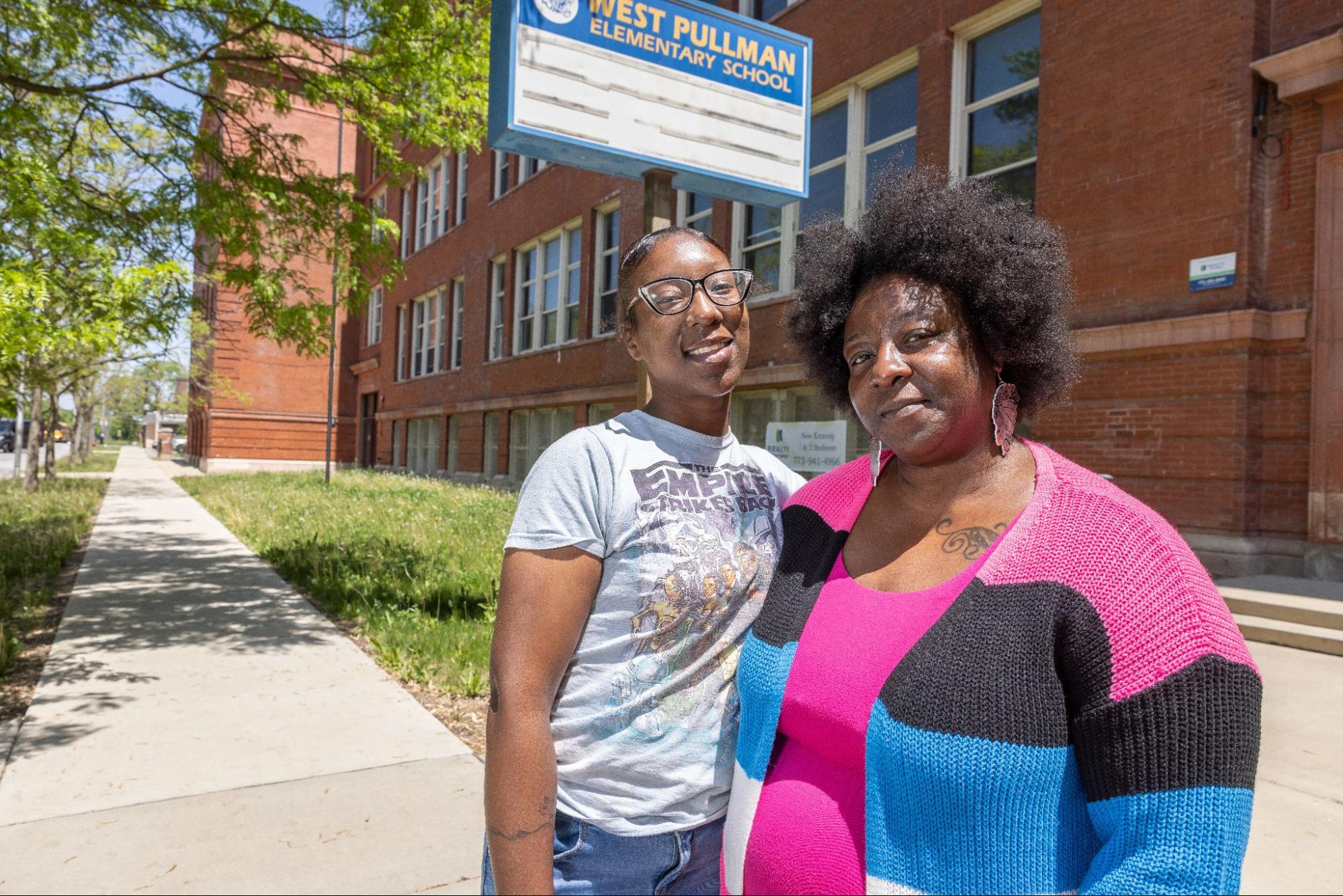 DeAnna Buck, 23, and her mother Davonda Buck fought to keep West Pullman Elementary open in 2013. They wanted CPS to invest in their struggling school, not close it. Manuel Martinez/WBEZ
Like many parents at closed schools, Davonda Buck wanted to see her daughter's elementary school improved, not closed.
"I was the one who fought for the programs, karate classes … different arts, movement classes, dance and stuff like that," Buck says of West Pullman Elementary.
Her daughter, DeAnna, who was in eighth grade in 2013, says the years ahead of the closing were difficult. In an attempt to avoid getting shut down, the school placed a heavy focus on reading and math test scores and sidelined other subjects.
"We [once] had music, we had art. We ended up having gym taken away," DeAnna says. "We didn't even go outside to the playground anymore."
Then, once West Pullman was on the list to close, "everything was going downhill," she says, with classwork essentially coming to a halt.
Buck eventually sent her son, who was in second grade when West Pullman closed, to Dallas to live with his father. She's never seen schools on the South Side as well resourced as her son's current school, she says.
DeAnna Buck stayed and went to Harlan High School.
The idea that DeAnna Buck's elementary school was so lacking it should close stuck with her and affected her confidence. She did the bare minimum to graduate. At the time, Harlan was among the lowest-rated in CPS, graduating only about 55% of its students.
"They gave me more time to go do things that I wasn't supposed to, and look at me now — I have two kids," the 23-year-old says.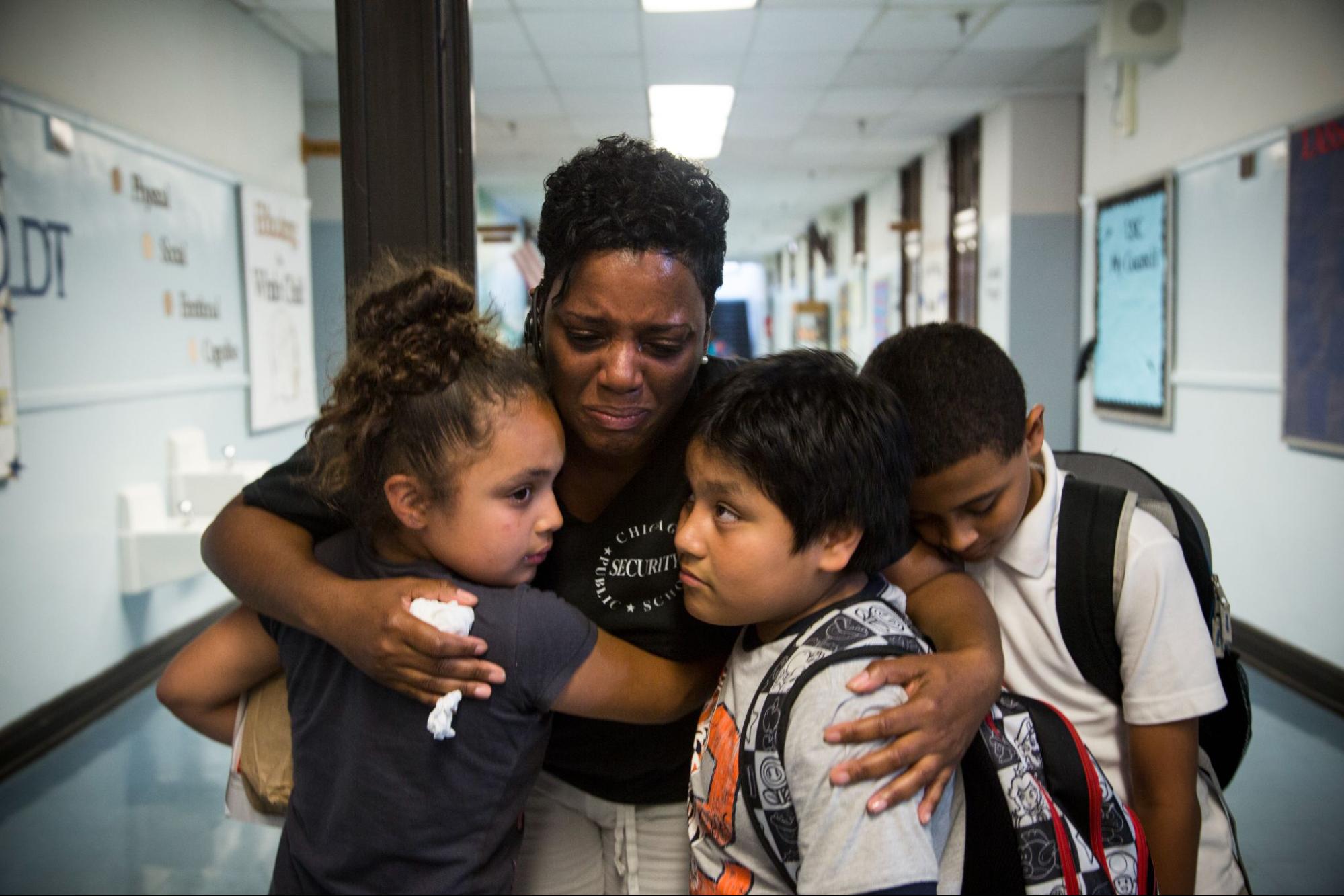 Security officer Carol Williams hugs students in June, 2013 as school let out on the final time for Von Humboldt Elementary School in Humboldt Park, which closed permanently that month. Jessica Koscielniak/Chicago Sun-Times
Her family's experience wasn't unusual. Despite the promise to provide these children better schools that would help catapult them to success, a lot of students repeatedly changed schools after the closings.
About 27% of students who were in first through eighth grade in the year after the closings left Chicago Public Schools at some point before graduating from eighth grade, either to another Illinois public school, an out-of-state school or a private school, according to state data.
The data also show that just over half the K-12 students from the closed schools didn't stick with their first-choice school after the closings. More than a quarter of those children switched schools three times before eighth-grade graduation, a slightly higher transfer rate than kids in the comparison schools. Some CPS students are already highly mobile, often transferring schools several times — particularly in low-income communities where schools have few resources.
Did Chicago keep its promises?
---
In 2013, Chicago Public Schools shuttered 50 underenrolled and low-performing schools in the largest mass closing in U.S. history. This impacted 13,646 children from the closed elementary schools. Up to another 18,000 students were affected as their schools welcomed students from closed schools. To mark the 10-year anniversary, we are publishing stories over four weeks that examine three promises made by public officials in 2013: The students would be better off; their new schools would be transformed; the shuttered schools would be reborn as community assets.
---
Education 'destabilization'
In many ways, these outcomes shouldn't be surprising.
Previous research by UChicago's Consortium showed students needed to go to significantly higher-performing schools after a closing to see improved academic outcomes.
But the neighborhoods where CPS wanted to close schools had few high-performing options nearby.
The designated "welcoming schools" were only marginally better academically. CPS tried to improve them by providing $155 million in resources. But one-third of the students whose schools were shut down didn't even go to their welcoming school, with half of those kids ending up in schools even lower-performing than the ones they left, according to a 2015 Consortium report.
The year after the closings, kids often entered chaotic environments in disorganized and seemingly unprepared classrooms.
"I saw where young people were struggling with those mergers of communities and how bad conflict and bullying increased in those schools," says Cecile De Mello, who worked at a West Side organization in 2013 and now runs Teamwork Englewood on the South Side.
"A lot of young people on the South and West side experienced the most destabilization in education that we've probably ever seen in Chicago."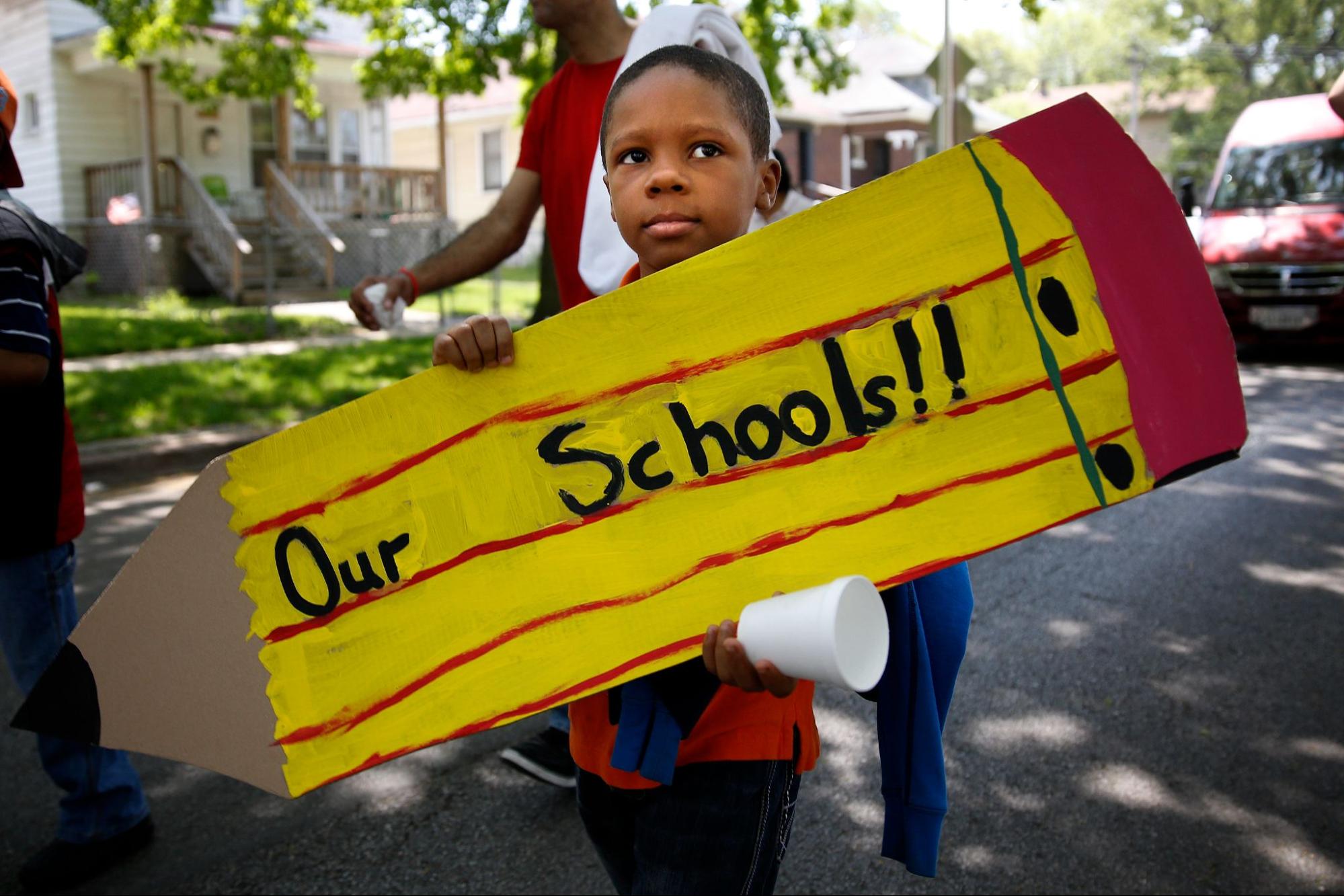 Claudius Ellington, who was in third grade in 2013, joined a march in May 2013 protesting the mass closings of what would be 50 Chicago public schools. Academic outcomes for students did not improve after the closings. Andrew A. Nelles/Sun-Times
Students with documented special education needs were disproportionately affected by the closings.
In the schools that were closed, nearly 22% of displaced kids were in special education, significantly higher than the 12% average for CPS.
About 52% of K-12 special education students from closed schools who could have graduated from high school by 2022 did so. That's a slightly lower rate than their special ed peers in the comparison schools. The difference adds up to about two dozen fewer kids graduating than otherwise might have.
Educators at welcoming schools say they had little time to prepare for so many special ed students.
That concern is what prompted Sherise McDaniel to join a federal lawsuit against CPS aimed at halting the closings, arguing they would violate the rights of special ed students like her son at Manierre Elementary.
"My son needed services at that time," McDaniel says. "They had no plan in place."
Manierre was one of four schools removed from the closing list at the last minute. So McDaniel's son finished as valedictorian of his eighth-grade class. He's a senior now, considering colleges. His mother credits much of his success with the stability that she and Manierre, across the street from her home, were able to provide him.
"To know the importance of what these places mean in these communities," she says. "We knew they were getting a meal. We didn't have to worry about them crossing any gang lines or busy streets – right across the street, teachers, people from the community. It was safe. It was what we needed."
---
'Students are resilient'
A year and a half after he took over as principal at Henson Elementary, Demetrius Hobson stood on a staircase in 2013, kids running up and hugging him as their school was closing.
"It was hard to see so much pain," Hobson says.
He worried about children who grew up as he did, moving from one home to another, often doubling up with relatives.
"They needed school to be a stabilizing presence. I do think that the closure may have pushed some students who were on the brink," Hobson says.
But Hobson also knew the kids would have no choice but to make the best of their circumstances.
"Students are resilient," Hobson says. "They adapt, and they adjust. And they make the best of the reality that they have."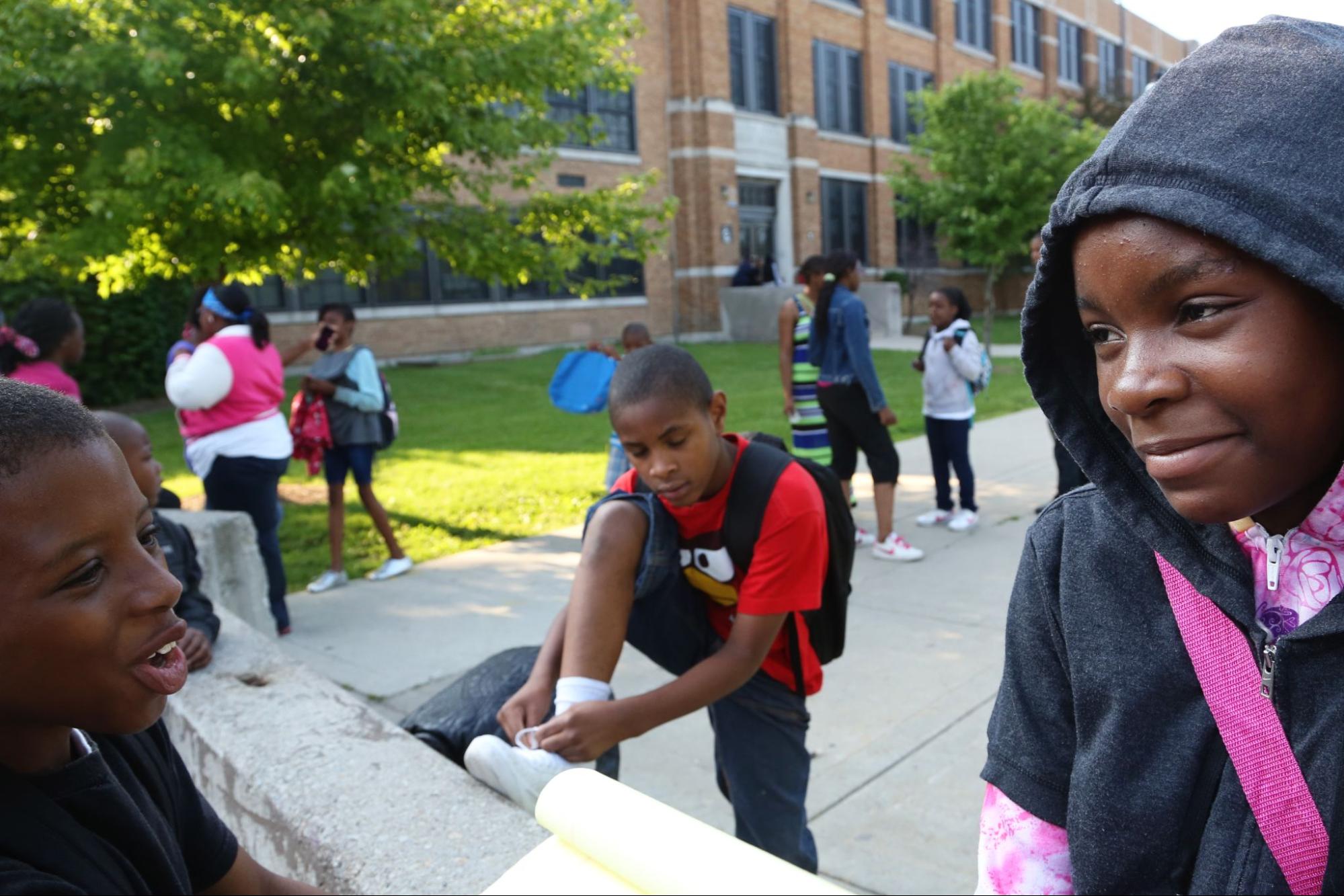 Myra Peterson was 10 years old when her school, Yale Elementary, closed in 2013. Yale students were encouraged to enroll at a school nearby, Harvard Elementary. Many kids felt judged at their new schools because they came from schools considered low performing and underenrolled. Jessica Koscielniak/Sun-Times
Some families say they managed the transition fine and moved on. Lots of teenagers today say they were too young in 2013 even to remember having gone to a closed school or the aftermath.
Jasmine Jordan was 7 years old when the city moved to shutter the building that housed her school, Dodge Renaissance Academy, eventually closing the school itself. Jordan remembers wearing a different uniform in her new school building, but little else seemed unusual.
"It was kind of more just like living in the moment of being a kid, like, 'Oh, what are we learning today,' or 'What are we doing today?'" says Jasmine, now 17 and a senior at Julian High School.
When Key Elementary closed, Traeon Johnson was in seventh grade. He followed CPS's directive to enroll at Ellington Elementary, a higher-performing school in a new building still walking distance from his Austin home. Ellington, like other welcoming schools, received some renovations including air conditioning, along with iPads and speciality programs.
"The building, it looked better than Key's school building," says Johnson, now 22, a father and musician known as Trey Glo.
He went on to a CPS military high school and got his diploma from an alternative high school.
"We missed Key," Johnson says, "But it was, like, we made it how it was at Key. ... All my friends, we got there, and we just made it home. It wasn't really home. But we just did what we can do."
Archie Hayes, whose family moved to Berwyn, came back to Chicago for high school. He enrolled in a charter school that had lots of teacher turnover and fights. He transferred to a different charter, where he got expelled. Eventually, he got his diploma from an alternative high school.
But his life is turning out OK, he says. Traveling from school to school, he grew closer with his younger brother.
"You don't need friends if you have a brother," he says.
The two of them have formed a rap duo, the DCG Brothers, and recently signed a deal with Atlantic Records.
They're moving to Atlanta to get Hayes' 4-year-old son out of Chicago.
---
The 13,646 students from the 50 closed schools
Closed Schools

13,646 students
All Chicago Public Schools
Black students

89%
Black students

41%
Hispanic students

9%
Hispanic students

45%
White students

1%
White students

9%
Closed Schools

13,646 students
All Chicago Public Schools
Black students

89%
Black students

41%
Hispanic students

9%
Hispanic students

45%
White students

1%
White students

9%
There were 13,646 students in closed schools
89% of those students were Black. That's 12,126 students.
That year, only 41% of Chicago Public Schools students citywide were Black.
9% of the students in closed schools were Hispanic. That's 1,247 students.
That year, 45% of all CPS students were Hispanic.
1% of the students were white. That's 88 students.
That year, 9% of all CPS students were white.
Comparison schools

13,542 students
Students who could have graduated by fall 2022

9,055 students
Graduated

5,616 students
Graduated from CPS

4,907 students
Graduated

8,538 students
Graduated from CPS

7,344 students
Comparison schools

13,542 students
Students who could have graduated by fall 2022

9,055 students
Graduated

5,616 students
Graduated from CPS

4,907 students
Graduated

8,538 students
Graduated from CPS

7,344 students
9,055 students from closed schools who were in fourth through ninth grades in 2014 could have graduated by fall 2022.
62% of those eligible students graduated. That's 5,616 students.
87% of those graduates did so from CPS. That's 4,907 students.
Students in closed schools in 2013
Students with Individualized Education Programs

2,988 students
Students with Individualized Education Programs
Students who could have graduated by fall 2022

1,883 students
Graduated by fall 2022

985 students
Students who could have graduated by fall 2022
Graduated

985 students
Did not gradute

886 students
Students in closed schools in 2013
Students with Individualized Education Programs

2,988 students
Students with Individualized Education Programs
Students who could have graduated by fall 2022

1,883 students
Graduated by fall 2022

985 students
Students who could have graduated by fall 2022
Graduated

985 students
Did not gradute

886 students
Special education students
2,988 students displaced by closed schools received special education services. That's 22% of displaced students.
1,883 of those students were in fourth through ninth grades in 2014 and could have graduated by fall 2022.
52% of those eligible special education students graduated. That's 985 students.
---
Giving up on Chicago Public Schools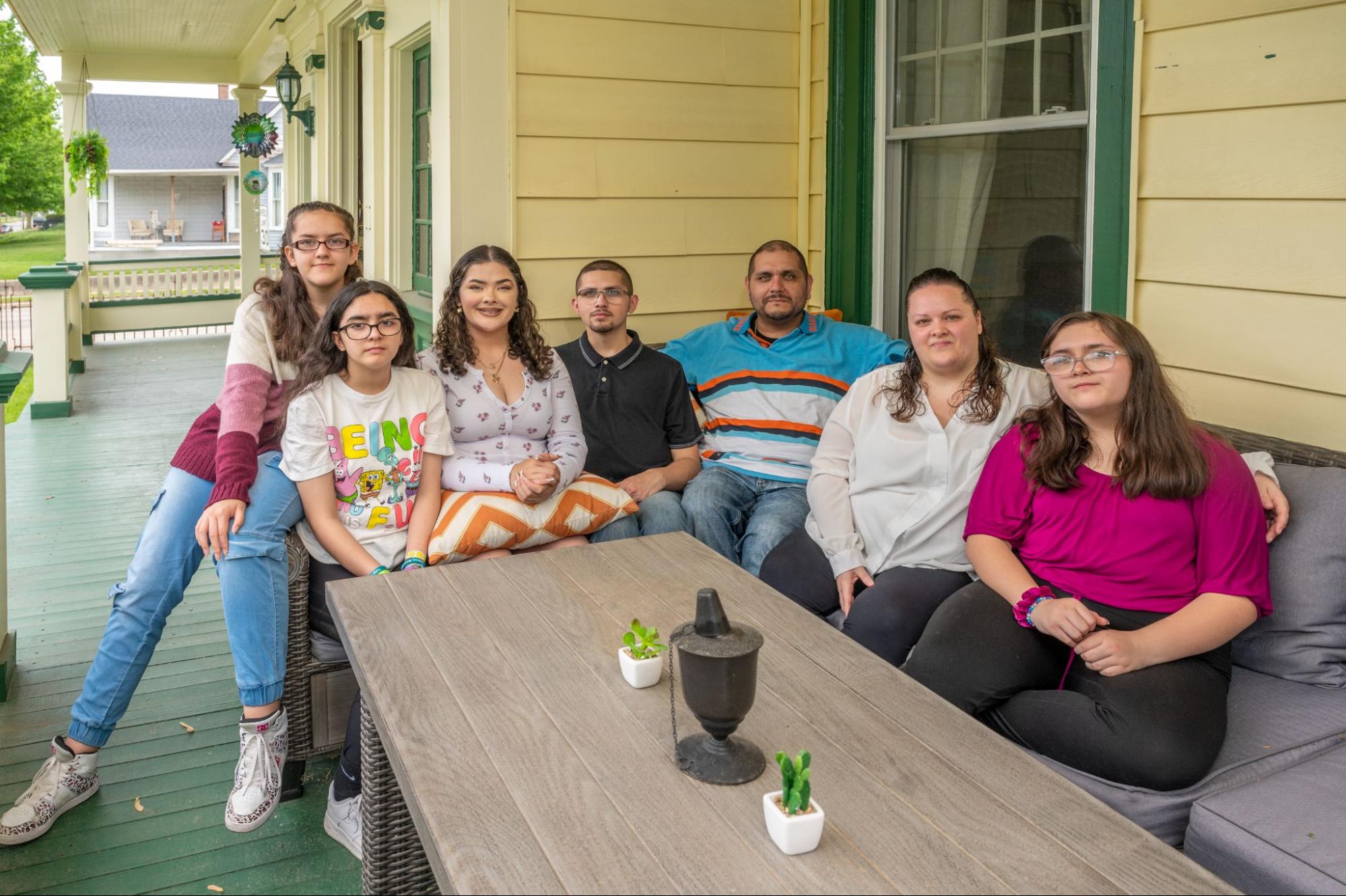 The Olvera family left Chicago Public Schools and moved to downstate Decatur. They left Chicago after CPS closed their school and they couldn't find another one in the city where they felt comfortable. From left: Madlin, 13, Paytain, 11, Anii, 17, Ian, 20, and their dad Thomas Olvera, their mother Mandi Swan, and Liana Olvera, 15. Darrell Hoemann/Hoemann Photography
For years after Lafayette Elementary in Humboldt Park closed, Mandi Swan and her husband searched for another school where their family would feel supported and comfortable.
Their son and one of their four daughters have autism. Their new school didn't have the services they were promised. Then, at one point, Swan was driving her children from Humboldt Park to the North Side for a better program.
But transferring her children from school to school caused bullying and anxiety.
"It was just like watching the downfall of things happen … there comes a certain point where, enough is enough," she says now, 10 years later.
Eventually, Swan and her husband moved their five children to downstate Decatur, about three hours south of Chicago. They weren't the only ones who left Chicago Public Schools. About 22% of the K-12 students affected by the 2013 school closings enrolled in another Illinois school district in the years that followed, an analysis of state data by WBEZ and the Sun-Times shows. That's 3,059 students.
There are many reasons why families move, from jobs to safety.
For Swan and her husband, it was the closing of the school where their children felt at home, where they had a community, and the years-long struggle to find another haven.
Several of the 50 closed schools had special programs for students with moderate to severe disabilities. These programs historically were placed in schools with extra space and children were bused in.
That was the case with Lafayette, in a grand building on Augusta Avenue. It was one of the few schools with an autism program starting in preschool and going through eighth grade.
Swan's oldest, Ian, was placed at Lowell, another nearby school, so his sisters followed.
"At Lowell, they were starting a brand new program where they guaranteed that it was going to be exactly what Lafayette had, if not better," she says.
That did not happen.
"The materials, the programs, the things that we're supposed to be set for them, were definitely not there," she says. "You can tell that in their behavior for sure that the transition was hard for them."
For two years, Swan says her children waited at Lowell for things to improve. When her son went to a specialty high school program, his sisters left but never found a school where they felt at ease.
Swan and her husband decided to move to Decatur even though it meant saying goodbye to their extended family and the neighborhood where they grew up. The children are doing OK there. Her son, now 20, is in a school that teaches life skills. The younger four are in high school or elementary school.
Decatur's school district isn't as well funded as Chicago's. But Swan says it is easier to navigate, and she doesn't feel like she's fighting all the time.
"We just wanted less loopholes to jump through," she says.
---
A mom makes do amid the closings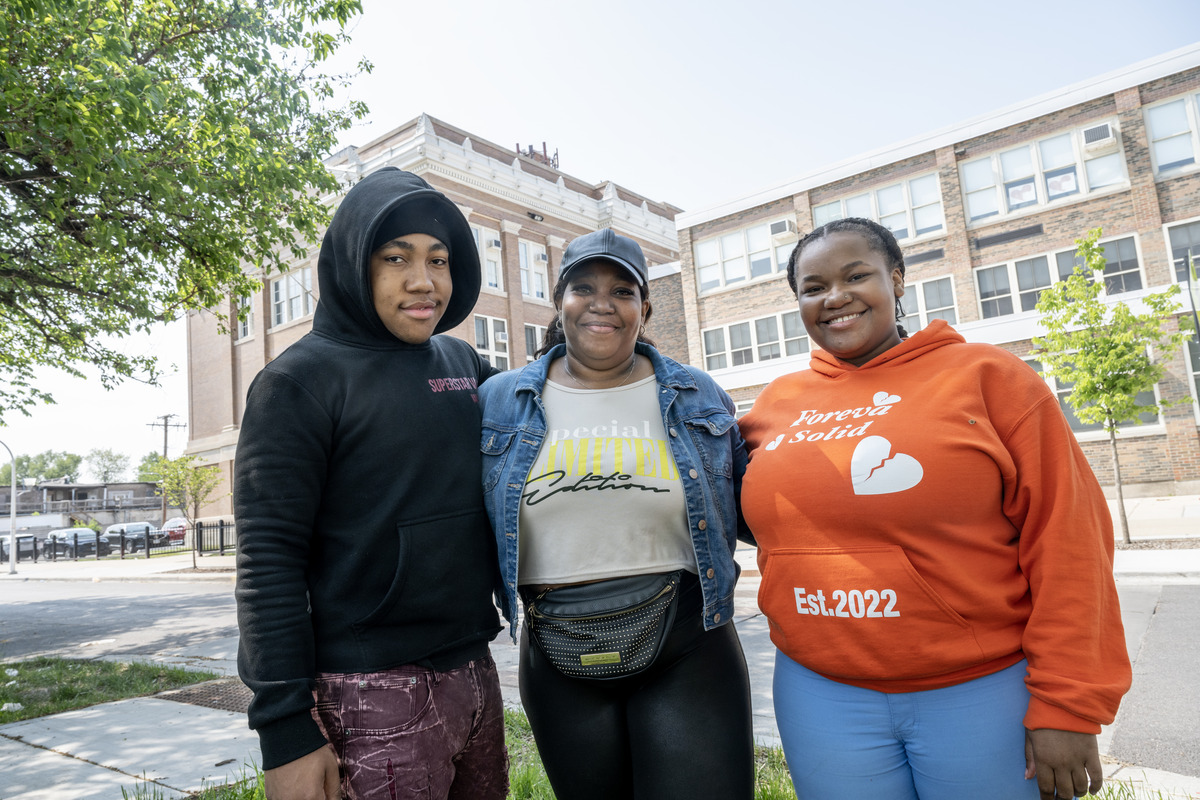 Shakeena Sturgent (center) and her children, Janaya and Travanti, at their former elementary school, which closed in 2013. Sturgent fought the closing, but the kids eventually settled into new schools. "It wasn't bad because they had me there," she said. Marc Monaghan/WBEZ
Shakeena Sturgent hated for Delano Elementary to close — her young kids' dad grew up across the street from the hulking brick school and graduated from there with his siblings. She adored the West Side school's kind teachers. So she joined protests against what she and other parents saw as unsafe commutes for their kids to a new school, passing gang boundaries and abandoned buildings.
But in an unorthodox kind of school closing devised in 2013, the low-performing Delano was closed on paper, its principal and core staffers let go. Then the staff and children from nearby Melody Elementary moved into Delano's building, changing the name of the school built in West Garfield Park more than 100 years ago.
Similar switcheroos happened in 13 of the 50 closings, in which the leaders and staff of the school CPS leaders deemed stronger — even if marginally so — moved into the facility leaders also deemed in better shape.
That stability proved essential to her children's swift adjustment to the change, Sturgent says. Young Janaya and Travanti's surroundings remained familiar and comforting, and they didn't have to travel.
"If they would have had to leave the building, that probably would have been one of the biggest concerns. Now, where am I going to take them where I feel comfortable with the teachers? Because now I'm here every day," she says. "So I'm really happy that they [were] able to stay inside that building."
Another key factor? They were little, moving from just first and second grade, mostly immune to the "this is my school" bickering that sprouted from combining two school communities.
"I've seen a lot of the fighting with the bigger kids, but not too much for the younger ones," Sturgent says.
But here's the real reason Sturgent believes her kids settled into Melody: "It wasn't bad because they had me there."
Luckily for them, their mom stuck around as a volunteer as she had at Delano in a room for parents who helped out, needed assistance finding work or found free cooking and sewing classes.
But after that first year, most of the family's favorite teachers who'd managed to land jobs at Melody left.
By the time her children were entering sixth and seventh grades, Sturgent had grown disillusioned with Melody's academics.
So like lots of parents whose kids' schools closed, she transferred them. Kellman Corporate Community Elementary School had moved into a building vacated in 2013 by another of the 50 closed schools. Sturgent had grown to admire the staff while working there for the Boys and Girls Club.
"I like how the teachers teach," she says. "They teach and help the kids understand what they're teaching."
Janaya graduated from Kellman and went on to Al Raby High School, where she's finishing senior year. Travanti, now a junior, asked to go back to Melody for eighth grade before following his sister to Raby.
Life has worked out for the family, but Sturgent remains convinced of this: "Delano would have been a way better education for them."
This story was updated to add the correct percentage of students from closed schools who left CPS before graduating eighth grade.
The number of students affected by the school closings was updated in this story to only include children in kindergarten through 12th grade in 2012-2013.
About Chicago's 50 Closed Schools project
This series was reported by Sarah Karp, Nader Issa and Lauren FitzPatrick. Additional data reporting by Alden Loury and Chalkbeat Chicago. Data visualizations and design by Jesse Howe. Photographs by Tyler Pasciak LaRiviere, Manuel Martinez, Marc Monaghan, Pat Nabong, Ashlee Rezin, Brian Rich and Anthony Vazquez. Editing and production by Paul Saltzman, Candi Meriwether, Jennifer Tanaka, Mendy Kong and Courtney Kueppers. The project editor is Kate Grossman.
Data methodology
Our team examined enrollment records obtained from the Illinois State Board of Education for the students who attended Chicago's 50 closed schools at any point in the 2012-13 school year. This data shows every change in Illinois public school enrollment for these children from the 2013-2014 school year and on in grades pre-K through 12. These records do not show enrollment in private schools or public schools outside of Illinois.
To start, we narrowed the population of students to those in K-12 in 2012-2013, removing students who were in preschool. Pre-K students are much more likely than older kids to attend a different school for kindergarten, so the closings may have had a different effect on them than K-12 students and potentially skewed outcomes.
To calculate how many students graduated by 2022, we further narrowed the population to children who were at least in fourth grade in the 2013-2014 school year. Those students could have reached the end of 12th grade by 2022 if they stayed on track and graduated.
To calculate the number of times an elementary student transferred, we added every change in enrollment that reflected a new school, plus departures and subsequent re-entries into the Illinois public school system.
The enrollment records were entered manually by school clerks, at times based on information provided by parents. For that reason, we only considered recorded graduations, recorded dropouts, recorded deaths and students who aged out of school as definitive outcomes for students. We considered recorded transfers and other data entries as imprecise and unusable.