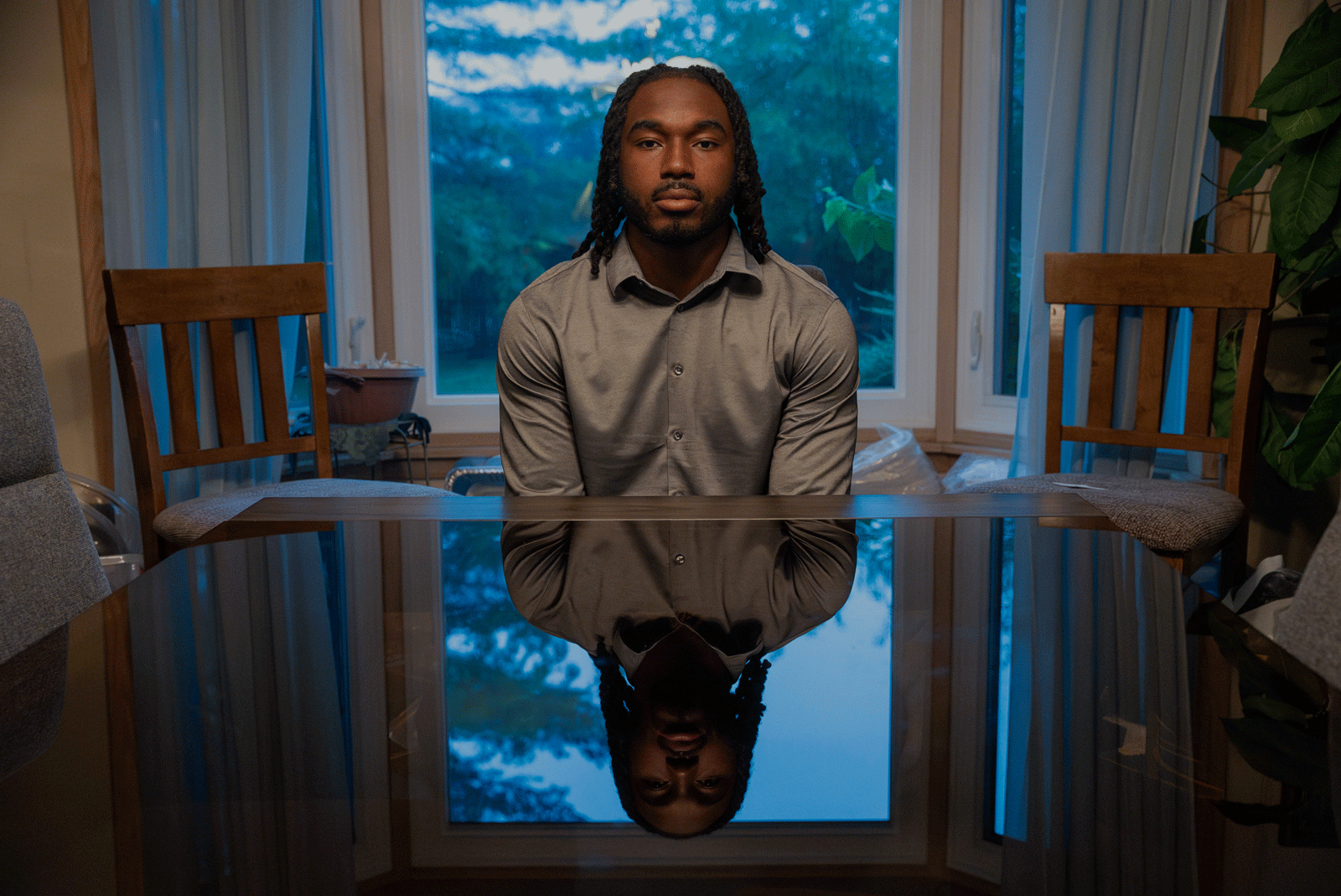 EXTREMISM IN THE RANKS
Part Three
He was a rising football star — then he met this state trooper
The Oath Keepers' membership rolls included an Illinois state trooper, a campus cop for the University of Illinois Chicago, and an officer in a village known as "America's First Black Town."
Key Findings
Illinois paid $210,000 to settle an injury claim against the state police from Jyran Mitchell, a highly recruited college football prospect.
The University of Illinois-Chicago declined to suspend or dismiss an officer for signing up for the Oath Keepers even though he violated a departmental rule against acting in any way that "would degrade or bring disrespect upon the employee or the Department."
The investigation by WBEZ, the Sun-Times and OCCRP found active police officers across the state who appeared in the leaked lists of Oath Keepers members.
Jyran Mitchell was a state high school track champion and a highly recruited college football prospect — before he met Illinois State Police Trooper Matthew Dumais.
One evening in 2018, Dumais came looking for Mitchell's brother at the family's home on a cul-de-sac in south suburban Matteson. Dumais and another officer apprehended Mitchell instead, forcing him into a squad car before realizing their mistake and letting him go.
In that incident, though, the police injured Mitchell's right knee badly, and he says he never completely recovered his blazing speed, which at the time threatened his hopes of success as a Division I football player.
The Illinois attorney general's office eventually agreed to pay $210,000 to settle Mitchell's legal claim against Dumais and another trooper, according to documents obtained through a public records request.
For years, Mitchell said Dumais' behavior that night "never added up to me."
It
definitely
was
like
the
missing
piece,
cause
like
even
til
this
day,
prior
to
me
knowing
he
was
an
Oath
Keeper,
I
was
still
just
like,
I
know
a
lot
of
white
officers
that
are
good.
I
know
a
lot
of
Black
officers
that
are
bad
and
vice
versa,
but
I
was
still
just
thinking
like,
"Why
would
you
want
to
come
to
my
house?
Talk
to
my
grandmother
the
way
you
were
talking
to
her?"
And
I'm
just
like,
"Why,
why
are
you
so
angry?"
Then, reporters from WBEZ and the Chicago Sun-Times told Mitchell about the officer's ties to the Oath Keepers. Leaked membership records for the group show Dumais had signed up to join the violent anti-government group, which later played a big role in the Jan. 6, 2021, insurrection at the U.S. Capitol.
"It definitely was the missing piece," Mitchell said.
For this series, the Sun-Times, WBEZ and the Organized Crime and Corruption Reporting Project have dug into the public disciplinary records of Chicago police officers with ties to the Oath Keepers, including nine who remain on the force. Documents show some of those Chicago cops have drawn accusations of using racial slurs and other serious misconduct on the job, but faced little to no consequences.
The investigation also found a dozen other Oath Keepers who are active-duty officers in other law enforcement agencies across Illinois.
Besides Dumais, there are officers who appeared on the Oath Keepers membership rolls and continue to work as cops for the University of Illinois Chicago campus police, a community college in the northwest suburbs, and a village on the banks of the Mississippi River known as "America's First Black Town."
And like the Chicago Police Department — which has taken a lax approach toward its Oath Keepers, even as new Mayor Brandon Johnson has promised to fire them — other law enforcement agencies in the state also have shown a high tolerance for membership in extremist groups in their ranks.
At UIC, officials launched an investigation into one such officer last year and determined that the Oath Keepers is not the kind of group anybody from its department should join. The campus cop admitted signing up for the Oath Keepers.
UIC let him off with no discipline other than a talking-to, according to public documents obtained by WBEZ and the Sun-Times.
But after Mitchell's confrontation with Dumais, the football player says he believes anyone who joined the Oath Keepers should not be in law enforcement.
If
we're
keeping
people
on
the
force
that
does
stuff
like
that,
what
does
that
say
as
a
state?
What
does
that
say
as
a
community?
If
it's
guys
like
that
that's
doing
it
to
me,
what's
going
to
stop
them
from
doing
it
to
somebody
that's
in
the
city?
So
we
just
need
to
really
police
our
police
officers,
so
this
would
never
happen
to
anybody
again.
"If we're keeping people like this on the force, who do stuff like this, what does that say about the state?" said Mitchell, 23. "We need to police our police officers so this would never happen to anybody again."
'That officer … has hate in his heart'
Mitchell was at home one evening in February 2018 with his grandmother when two officers — Dumais and a Matteson municipal cop — came to their house looking for his brother, who had fled a traffic stop.
Mitchell told the officers his brother was not home. But police reports show the officers handcuffed Mitchell, and Dumais placed him in an Illinois State Police squad car.
Mitchell, who is Black, said he believes Dumais, who is white, acted with racial bias when the officers did not believe him and his grandmother, who also told the officers that Mitchell's brother was not there.
"The officer that does that has hate in his heart," Mitchell said at an interview in his family's house in Matteson. "He's angry toward my people. He showed racism that night."
That
officer
definitely
had
hate
in
his
heart.
He's
angry
towards
my
people.
He
definitely
showed
racism
that
night.
Just
a
mean
person,
an
angry
person,
malicious,
all
those
words
describe
him
very
well.
Mitchell said his meniscus was injured when the officers forced him face down on landscaping rocks in front of the home before dragging him to the state police car. In his report on the incident, Dumais stated that Mitchell was "released from detainment" when officers realized the car in the driveway was not his brother's vehicle and they had the wrong guy.
Represented by veteran Chicago attorney Victor Henderson, Mitchell sued Dumais, another state police trooper, the village of Matteson and a Matteson cop in federal court. Court records show that the office of the Illinois attorney general tried to get Mitchell's complaint against the two state troopers dismissed.
But U.S. District Judge Manish Shah declined to throw out the case. Shah wrote in June 2020 that there was no reason for the troopers to use force against the young man, "let alone to team up and wrangle Mitchell to the ground when he presented no threat whatsoever."
During the court fight, text messages emerged between Dumais and the Matteson officer in the case in which they discussed the complaint from Mitchell.
Dumais wrote of Mitchell's claim, "His story is bull—- … We didn't use any force. Lil b—- lol."
After Mitchell's lawsuit was filed, the Matteson officer sent Dumais a copy and told him he was named as a defendant. According to documents filed in the case, Dumais replied with a slur, "Gay."
Weeks after the case was filed in Chicago, Dumais told his counterpart from the suburban police department, "I have only heard s— in the news. Lol state police haven't said s–."
Like the state police, the village of Matteson ended up paying $210,000 to settle the case, records show.
Mitchell said he was shocked by the treatment from police. He never had any problems with the law, kept a grade-point average of 4.28, and before his injury had committed publicly to playing football at Northern Illinois University.
"Nobody even came to say they're sorry from the village or the state police," he said.
Nobody
even
came
to
the
house
to
say
they're
sorry,
from
the
village
or
the
state
police.
In a statement last week, state police said they knew Dumais had appeared on the Oath Keepers list, but officials determined that he had only "isolated involvement" with the group in 2009, before he joined the force in 2013. In the leaked data, Dumais appears on membership rolls dated as late as 2015.
"At some point in early 2009 I donated an amount of money which I cannot recall to the Oathkeepers Organization through their website," Dumais wrote in an internal memo in January 2023. "I do not consider myself a member of this organization."
Dumais did not return messages. A state police spokesperson defended him as a "decorated officer with no discipline" who was lauded for saving a woman from fatally overdosing and for being the lead investigator in three solved homicide cases.
The spokesperson for the state police said the allegations against Dumais in Mitchell's lawsuit had been reviewed and it was decided there was "insufficient evidence to support discipline" against the state trooper. The spokesperson also said the settlement with Mitchell was smaller than his initial demand of $1.5 million.
And state police officials said Monday they recently added questions to their job applications to screen aspiring troopers who have been involved in anti-government groups.
For Mitchell, surgery on his knee cost him the chance to defend his state track titles and blighted his hopes of starring on the football field for NIU, he said. He ended up transferring from NIU to Eastern Kentucky University and is now playing for Butler University, where he's finally enjoyed success this fall.
Other cops in Illinois with ties to the Oath Keepers
Besides Dumais and Paulish, the investigation by WBEZ, the Sun-Times and OCCRP confirmed 10 other active police officers in Illinois had appeared in the leaked lists of Oath Keepers members. And in some cases, the leaked data shows the officers told the extremist group about their reasons for joining.
Kristopher Larson
A 20-year veteran officer at Harper College in the northwest suburbs. He told the Oath Keepers, according to the leaked membership documents, that he learned about them online and wrote, "I would like to set up something where members in the Chicago area could get together maybe a few times a year."
Larson did not return messages. According to a spokesperson for Harper College, the campus cop "was affiliated with the [Oath Keepers] from 2011 to 2012. He stated he signed up for a one-year membership and did not renew his membership."
Kenneth Bombardieri
A longtime police officer in small Illinois communities near St. Louis. He said in leaked membership documents that he had also learned about the Oath Keepers through Facebook — after a trucker he stopped told him about the group.
Court records show Bombardieri lost his job after swearing at his police chief in Washington Park, Illinois. But Bombardieri got other police work in the St. Louis suburbs and was hired earlier this year as a part-time cop in Brooklyn, Illinois.
The police chief for Brooklyn declined to comment. Bombardieri did not reply to messages.
John Hopkins
A police officer in DuQuoin, a city about 300 miles south of Chicago, appeared on the leaked membership documents. Hopkins ran unsuccessfully for the Republican nomination for sheriff of Perry County, in southern Illinois, last year. During his campaign, he appeared at events with the GOP nominee for governor, Darren Bailey.
Hopkins was fired from a policing job in one southern Illinois town because the village board president said he stopped showing up for work for nearly a month without explanation, records show.
Hopkins did not reply to messages. A spokesman for Bailey declined to comment.
Andrew Schroeder
Deputy sheriff in Stephenson County, in northwest Illinois. The leaked Oath Keeper membership data and public records show he joined the Oath Keepers while he was on the police force in Freeport, a city west of Rockford.
Schroeder was a member of the county board and continues to be a Republican Party official in a precinct in Freeport. After former President Donald Trump was criminally charged in August in Georgia, Schroeder almost immediately changed his profile photo on Facebook to Trump's mugshot.
Reached by phone last week at the sheriff's office, Schroeder declined to comment and hung up on a reporter. The sheriff did not return messages.
'Verbal counsel' for UIC cop with extremist ties
Another police force — for the University of Illinois System — also showed a great deal of tolerance for an officer who acknowledged signing up as an Oath Keeper and paying membership dues, records show.
The UIC campus police opened an internal investigation into the officer, Matthew Paulish, in August 2022, after the Anti-Defamation League informed the department's chief, Kevin Booker, that Paulish's name had appeared in the leaked list of 38,000 Oath Keepers members. The message from the ADL also included extensive research about the history of the Oath Keepers.
UIC Capt. Jason Huertas
My first question is, is the information that was provided to the Anti-Defamation League regarding your membership in the Oath Keepers true?
Paulish
I am not a member.
Union counsel Joe Mazzone
You said a one time donation.
After the tip from the ADL, an internal affairs investigator for the UIC campus cops questioned Paulish, who initially said he "does not remember signing up as a member of the Oath Keepers." Asked again, though, Paulish changed his answer and said he could have become a member when he made a $50 donation to the group "just one time" in 2009, according to the investigator's report in the case.
But the leaked membership records for the Oath Keepers suggest that Paulish remained on the list of Oath Keepers loyalists for several years.
In his application to the Oath Keepers, which also was part of the group's data leak, Paulish said he had been an officer since 2004 and learned of the organization through "a friend from work."
UIC records and a video recording of his internal affairs interview show Paulish also told the investigator he never had further contact with the Oath Keepers beyond giving them his contact information and was not aware at the time he joined that it was an "extreme right-wing anti-government militia group."
Huertas
How many times did you renew your membership or provide a donation?
Huertas
How much did you pay for that in your membership?
Paulish did not return messages. But he told the investigator he had joined the Oath Keepers because he wanted Illinois to become a concealed carry state and he "just thought they were a pro-law enforcement entity."
The internal investigation at UIC concluded that Paulish's decision to sign up for the Oath Keepers violated a departmental rule against acting in any way that "would degrade or bring disrespect upon the employee or the Department, including public association with persons of known criminal reputation."
The investigator in the final case report also criticized Paulish because he "did not fully investigate the philosophy of the group prior to his membership."
But UIC police did not suspend or fire Paulish because, the investigator said, the Oath Keepers was "not as organized" at the time he signed up as it is now and the probe determined Paulish did not "intentionally violate" the force's policy.
According to his UIC personnel file, Paulish received only "verbal counsel."
Huertas
Did you at any time attend any meetings, social events or any other type of gathering that was related to the Oath Keepers?
Dan Mihalopoulos is an investigative reporter on WBEZ's Government & Politics Team. Tom Schuba covers police for the Sun-Times. Kevin G. Hall is North America editor for the Organized Crime and Corruption Reporting Project.
EXTREMISM IN THE RANKS | Part Three
About this story
Design and development by Jesse Howe
Video and video editing by Brian Ernst
Photos throughout the series by Ashlee Rezin, Pat Nabong, Victor Hilitski, Manuel Martinez, and Anthony Vazquez
Reporters with the Chicago Sun-Times and WBEZ filed more than 200 open-records requests with the Chicago Police Department and other law enforcement agencies across Illinois. Those requests sought the personnel files for dozens of current and retired cops from the state whose names appeared in the leaked Oath Keepers membership data. Read more about how we did the investigation here.
A project in conjunction with
This investigation is a part of the Democracy Solutions Project, a joint effort between WBEZ, the Chicago Sun-Times and the University of Chicago's Center for Efffective Government exploring critical issues facing our democracy.